Archbishop Dery's elevation is our pride-Prez Kufuor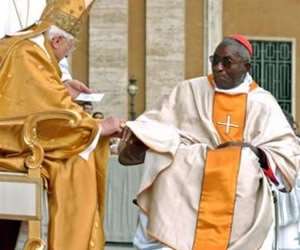 The Apostolic Nuncio to Ghana, Most Rev. George Kocherry, has led a delegation to the Castle to officially inform President Kufuor of the elevation of Most Rev. Peter Dery, Archbishop Emeritus of Tamale Diocese to the position of Cardinal.
He said the appointment was in recognition of his immeasurable service to the Church and the youth in Ghana. Adding that out of the fifteen Cardinals appointed, Most Rev. Peter Dery is the only African.
Most Rev. Kocherry said the formal consistory for the newly appointed Cardinals will be done on Friday, 24th March in the Vatican and official mass on Saturday, 25th March.
President J.A. Kufuor was happy to receive such a good message. He said Ghana has in the past few years been honoured, adding that this is the second elevation to the position of Cardinal. He said in our part of the world, Ghana is the most privileged to have two Cardinals.
President Kufuor said on the religious front Archbishop Dery has contributed much and if the Holy Father, Pope Benedict XVI has elevated him, then he is deserving of the honour.
Most Rev. Peter Dery has chalked a lot of firsts in his life. He was the first person to be baptized in Tamale, the first to be ordained a Priest; the first to be made a Bishop as well as an Archbishop in the area and this fact, President Kufuor said, makes Ghana proud.
President Kufuor informed the Kocherry-led delegaion that government will send a representation to be part of the Consistory in Rome.