Dormaa East District Marks 63rd Independence Day Celebrations Outside District Capital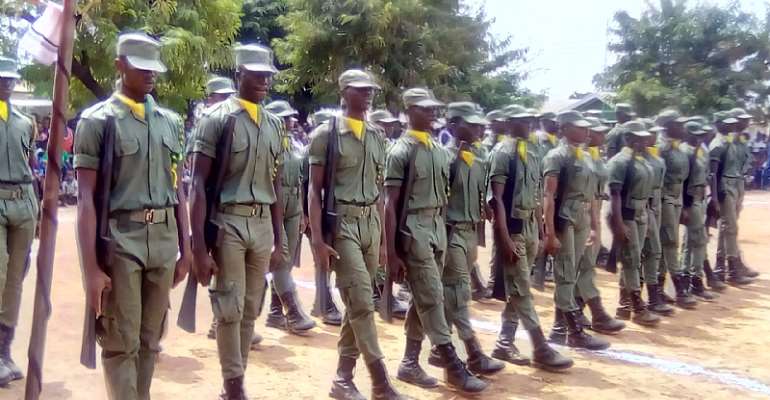 Dormaa East District on Friday, March 6, 2020, joined other sister Districts across the nation in celebrating Ghana at 63.
In trying to replicate the movement of the national Independence Anniversary Parade from the Nation's capital to elsewhere, the District for the first time, also moved the activities marking the Anniversary outside her Capital, Wamfie.
At Wamanafo Coast Team Park, where the event took place, 25 schools made of five (5) Kindergarten Schools, nine (9) Primary, nine (9) Junior High, and two(2) Senior High schools took turns to march past and saluted the national flag to mark the day. Other performers who made the event very colorful and memorable included the Mansen Cadet corps, the Methodist church Brass Band and other organized groups such as farmers, traders, hairdressers and tailors associations, forestry staff, zoomlion and many more.
In terms of organized structures and development as well as the number of population, Wamanafo town comes next to Wamfie, the District Capital.
The intention of the movement of the parade to Wamanafo was to enable others outside the district capital feel and be part of the euphoria which comes with the activities of the event. Other satellite parades took place in six major towns and villages.
In attendance were Manasenhene Barima Ansu Adjei and his elders alongside other chiefs of the District, the Member of Parliament, security heads and GES officials among other important personalities.
As part of the activities marking the occasion, several presentations and donations were made. Notable among them, were the Otumfuo's Best Teachers Award received by a teacher at Kofibuor D/A Primary and the Member of Parliament (Hon. Williams Kwesi Sabi) donation of sixty-five thousand Ghana cedis towards educational development in the District.
In a speech read on behalf of the President, Nana Addo Dankwa Akufo- Addo by the District Chief Executive, Hon Emmanuel Kofi Agyeman, to climax the day, His Excellency the President, attributed our lack of infrastructural development in many sectors of the economy and poverty among many, to our inability as nation, to have fully utilized our God-given potentials. Notwithstanding that, however, the president believes Ghanaians have more they can hope in and be more thankful to God for His graciousness, through the provision of peace, safety, and natural resources. He charged all to unite and work towards a prosperous, peaceful and happy Ghana we want.