NDC Never Really Attempted to Fight Galamsey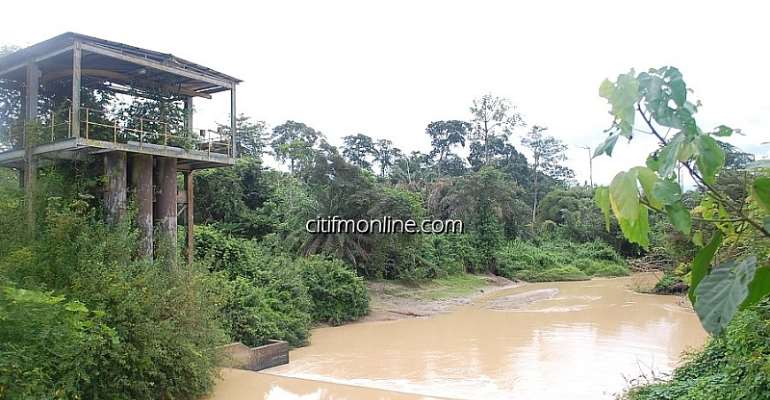 He is smack on target when Mr. Yaw Buaben Asamoa, the New Patriotic Party's Communications Director, critically and insightfully observes that when it comes to the uphill and protracted fight against Galamsey, or illegal small-scale mining, the leaders of the National Democratic Congress (NDC) are vacuously full of fault-finding, although during the 8 years that the Mills-Mahama regime controlled and directed the nation's agenda, absolutely no comprehensive land, forestry and water reclamation program was put into place. Instead, the now-Candidate John Dramani Mahama, as substantive President of the Sovereign Democratic Republic of Ghana, preferred to chauvinistically and ethnocentrically pick on the chiefs and people of Akyem-Abuakwa, the relatives and kinsfolk of his then main political opponent, Nana Addo Dankwa Akufo-Addo, whom he publicly and sadistically taunted and disdainfully accused of what a politically triumphant Mr. Mahama called "denizens of the Galamsey Capital of Ghana" (See "NPP Blasts NDC to Stop Politicizing Galamsey, Missing Excavators Issue" News Desk – Modernghana.com 2/20/20). Mr. Mahama also brazenly refused to admit the fact that it was "Mega-Galamseyers" like his own brother, Mr. Ibrahim Mahama, who had greedily and cannibalistically reduced the land, water and forestry resources of Okyeman to waste.
At a press conference on Wednesday, February 19, in Accra, Mr. Buaben Asamoa, who is also the New Patriotic Party's Member of Parliament for Adenta, in the Greater-Accra Region, pointedly observed that the NDC's leaders had taken three politically shallow approaches to dealing with the major environmental threat of Galamsey, namely, "blaming the President, screaming loudly that the [presently implemented] solution is not working, and desperately appealing to the voters for their electoral mandate without offering any constructive and feasible alternative." Indeed, nothing could be more insulting to the intelligence of Ghanaian voters than the facile offering of the predatory and environmentally destructive status quo as a viable alternative. You see, even as Mr. Buaben Asamoa insightfully noted, a failed solution is far better than no solution at all, which is the strategically baseless and vacuous alternative that the NDC's leaders have been preaching to the Ghanaian people. Rather, according to the Communications Director of the NPP, what needs to be done is for all our leaders, irrespective of party membership or affiliation, to go back to the drawing board and do some creative and critical thinking and then facilitate the radical retooling of the government's current strategy.
In reality, what needs to be done, as I have already suggested in a previous column, is for the government to allow our national security agents to completely take over the epic battle against the Galamsey Menace and scale back any participation of ruling party leaders and activists to the barest minimum. Even more importantly, there must be imposed a total ban on all small-scale mining activities for at least a decade, to ensure that our waterbodies and forestry resources have been given ample time to recover some of their pristine potable qualities. For even as environmental experts continue to sternly warn, if strict and careful steps are not taken by our policymakers and executive operatives, within a decade or two, Ghana risks becoming a net importer of potable drinking water, and this will be an unbearable drain on our national economy. The heavy pollution of our forestry resources will also significantly affect the level of food production and the general quality of health and life-expectancy in the country.
Whatever short-term profits may be gained from engaging in environmentally destructive small-scale mining are highly unlikely to be offset by the humongous costs entailed in the reclamation of our waterbodies and forestry resources. It is our fervent hope that the leaders of the country's two major political parties are paying studious attention, else the future looks to be very bleak for the entire nation at large. It is also true, even as President Akufo-Addo noted in his most recent State of the Nation Address (SONA-4), that small-scale mining goes on everyday all over the world. What Nana Akufo-Addo, however, woefully failed to equally significantly note is that in countries with environmentally conscious leaderships, the sort of reckless pollution of our waterbodies and the degradation of our land and forestry resources that rampantly and riotously prevail in Ghana are reduced to the barest minimum, if not rendered absolutely nonexistent.
*Visit my blog at: kwameokoampaahoofe.wordpress.com Ghanaffairs
By Kwame Okoampa-Ahoofe, Jr., PhD
English Department, SUNY-Nassau
Garden City, New York
February 20, 2020
E-mail: [email protected]