Lamentations Of A 63-Year-Old Toddler: A Clear Case Of Ghana's Failed Dreams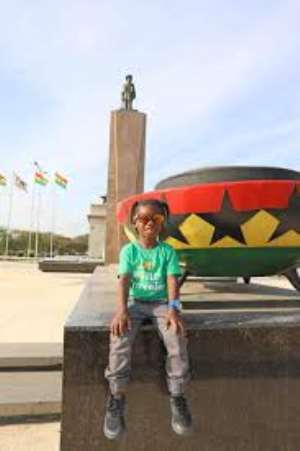 63 years ago, I was borne into this world, and on this land, Africa, West Africa.
At my naming ceremony it was pomp and pageantry. There was thunderous applause, dancing and jubilation when a Red, Gold, Green and the Black Star flag was hoisted in the place of the Union Jack, the British flag, to mark my birth. Or I should call it my "stillbirth"?
For indeed, it's more of me bornstill, judging by the measure of my stunt growth vis-à-vis my prospects. My capacity to be counted amongst the industrious and highflying peers of mine, my age mates, is comparable to my case being 'dead on arrival'.
The very supposed caring parents who beget me neglected their duties and pursued their desires.
Their enemy balkanised them, thinking it was good for them divided, not knowing that was the chance to pounce on them for his prey.
As an unweaned child, I was left to fend for my self.
My parents fought among themselves. One stabbed the other. They died together, at the time I started to learn how to walk. And, till today, it has remained so. Nothing brings together my caretakers. Not religion. Not democracy. Not even the passion of the nation - football.
Things have fallen apart.
It has remained so since. No one cared for me. I've never left my cradle. I didn't get enough feed on breastmilk as did my age mates.
Today, I am 63, but I wear the looks of a 3-year-old, a toddler. A struggling toddler who slip and fall more often, mastering the important skills of walking, what will facilitate my steps, running to my goal, building a deserving Paradise.
At times, or many times, as I sit down to brood over my failed aspirations, I get people who constantly remind me: "it was better you were not born. For from where you came, it's a place you dream to go back, beg for food, disrespected and denied many times, entry and residence.
Oh, me, sitting by the riverside, but wash my hands with a spittle. Under the bed on which I sleep, appetising and aromatic cuisine stored, have I any strength, power, and the knowledge to grab it to satisfy my hunger?
I see my inheritance, my bequeathed resources, siphoned, exploited, and channeled through pipes that irrigates arid lands into verdant elsewhere. They build empires, impregnable castles, and skyscraping towers.
It's the very place I dream to be welcomed as a servant, a slave for that matter.
Who cares to free me from my bondage, and restore me to my deserving status?
On paper, I should be on retirement, but do I look it? Do I boast of any wealth to rely on if I sign to retire?
No, never, I must continue in my struggle. In the darkness, in the clouds that hover over me, I'm assured of a silver lining now.
My saviour in a caring youths I sense approaching with a speed, swiftness and the foresight of the tireless eagle. With the power of patriotism, the burning desire to do what is right, I'm assured of being rescued and rebuilt from my misery.
Since I live, there's hope, and I believe, sooner than later, my development would be a positive test case to the world.
Fingers would be pointed at me. This time, it would be: "see, she's strong again, great again. She's the Ghana who adversities don't do harm".
All is not lost. Ghana can rise again. One Ghana Movement, a march of united Ghanaians with one aspiration, devoid of selfishness, will rejuvenate the 63-year-old toddler, and be made a well fed adult.
Celebrate me now. I am 63.
Ghana will be Great Again.
Long live Ghana!
Written by: Charles Yeboah (Sir Lord)
The Founder of One Ghana Movement. #1GhM
Email: [email protected]*