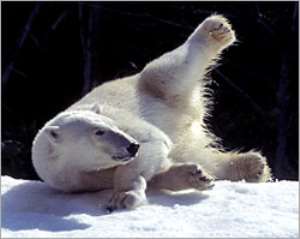 Polar bears and hippos are among more than 16,000 species facing extinction, a new report says.
In total, one in four mammals, one in eight bird species and one quarter of the world's coniferous trees are now under threat, leading environmental agency the World Conservation Union (IUCN) said on Tuesday.
It said countries must increase efforts to preserve biodiversity through reducing emissions, tightening fishing regulations and improving hunting controls.
Achim Steiner, the IUCN director-general, said: "Biodiversity loss is increasing, not slowing down.
"The implications of this trend for the productivity and resilience of ecosystems and the lives and livelihoods of billions of people who depend on them are far-reaching."
Major consequences
The IUCN's Red list classifies about 40,000 different species according to their risk of extinction.
The total number of species on Earth remains unknown, although estimates put the total at about 15 million, of which nearly 1.8 million are known today.
The organisation said that unless global warming trends were reduced, polar bear populations could drop 30% in the next 45 years as shrinking ice caps deprived the animals of their habitat.
It has now classified the animal as a "vulnerable" species, only one step away from endangered.
The hippo has also been classed as vulnerable after its numbers declined dramatically in the Democratic Republic of Congo.
Unrestricted hunting has led to a 95% decline in the country's hippo population since 1994.
The IUCN also said that one in four freshwater fish in East Africa is at risk. In Malawi, where freshwater fish comprise 70% of the animal protein consumed by humans, the number of lake trout has halved in the past decade.
This could have "major" commercial and dietary consequences for the region as vital food stocks diminish, it said.
Success stories
However, the organisation said that improved numbers of Indian vultures and Europe's white-tailed eagle showed how measures to assist threatened species do produce results.
"Reversing this trend is possible, as numerous conservation sucess stories have shown," Steiner said.
"[But] biodiversity cannot be saved by environmentalists alone ... to succeed on a global scale we need new alliances across all sectors of society."