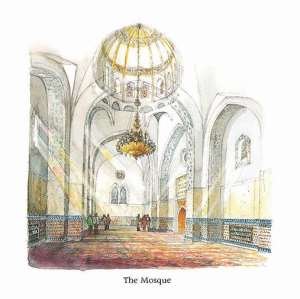 Agona Oketsew (C/R), May 8, GNA- A 50.5-million-cedi Mosque, constructed by the Ishan Services Bureau, a Non-governmental Organisation (NGO) has been inaugurated at Agona Oketsew in the Central Region.
Speaking at the ceremony, Shielk Khjdir Idresi Adam, Director of the NGO, said the organisation had built 30 Mosques at an estimated cost of 1.5 billion cedis and sunk over 1,000 wells for potable water throughout the country.
It has also provided infrastructure for the Nana Khadija Girls Secondary at Agona Swedru and a Primary School at Essuenyhia in the Mfantseman District of the Central Region as its contribution to the government's efforts to provide quality education. Shielk Adam said the NGO was going to supply some second cycle institutions with computers to promote Information Communication Technology education and stated that it would also establish an Islamic University in Accra soon.
Alhaji Jabire Ibrahim, Assemblyman for Oketsew/Mankrong Junction and Imam, said Director of the NGO visited the community and asked the Muslim leaders to look for land for the Mosque when he realised that they did not have one and called for the regular maintenance of the building.
Alhaji Iddris Musah Sorry, Agona District Chief Imam, advised Muslim to take secular education as serious as religious studies and to maintain environmental and personal hygiene to avoid diseases. He asked them to register with the National Health Insurance Scheme to enjoy affordable quality health-care delivery. Chief Awudu Musah, a former Assemblyman for Swedru Old Zongo, also stressed the need for Muslim to take girl-child education as seriously as they did for their boys.