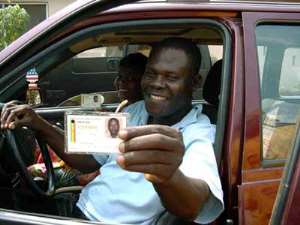 The revision of the voters' register in the Kumasi Metropolis began on Friday with a very low turn out. The two-week exercise is to enable those who have turned 18 to register as well as for people who were unable to register during the last exercise.
It will enable the commission to rid the register of the names of people who had expired or found ineligible to have their names in it At the Odumase Electoral Area where people from 14 polling stations are expected to register Mr. William Owusu-Ansah, the registration officer, told the GNA that only six people had turned up to register.
He attributed the low turnout to inadequate publicity on the exercise, saying many people thought all the known polling centres were to be used for the exercise.
Mr Owusu-Ansah said old forms and identity cards of those who took part in the last registration exercise were at the centre for collection and therefore asked those concerned to report at the centre to take the photographs for the cards to be issued them.
Mr Francis Cobbina and Edward Kwarteng, Assistant Registration officers at the Afua Kobi Electoral area at Manhyia said the centre was responsible for seven polling Stations.
By the time GNA got to the area around 1100 hours, 23 people had registered and many were also seen preparing their forms for their names to be entered in the register.
At the Central Mosque Awal Mohammed, the registration officer, said they had not encountered any problem except that they needed some stationery to complement their work and unlike the other centres visited, this centre had a long queue.
At the Abrepo Junction Electoral Area where six polling stations had been merged, Mr Ben Kumasi said they had not had any problem since the exercise started in the morning.
He said they had enjoyed the co-operation of all the party officials detailed to observe the exercise and that they had been able to register 12 people.