Tamale Community Cooperative Credit Union Holds 13th Annual General Meeting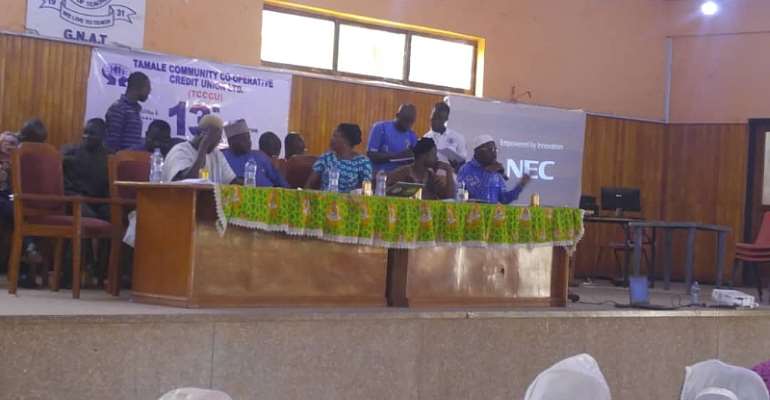 The Tamale Community Cooperative Credit Union (TCCCU) on Saturday, February 29, 2020, held it's 13th Annual General Meeting (AGM) to create the opportunity for members to analyze the performance of the Credit Union
The one-day meeting was also to give time for the board of directors and management team to strategize on how to improve the performance of the Union
Presenting her report, chairperson of the board of directors, Christina Azuma Agana said the TCCCU has a total membership of 2,999 with many more members still coming on board
She also said the Union recorded a positive growth within the financial year and thanked members for their loyalty and commitment to the TCCCU
Counting some gains made by the TCCCU, Madame Agana revealed that the TCCCU was in talks with a foreign company called REAL to provide 100 affordable but comfortable houses for their members
" We call it Housing for the Active Poor. What prompted us to bring this initiative to TCCCU is we realized that a lot of our members belongs to the group that we call the active poor and they are really doing well in the Credit Union. So we realized that to improve the standard of living for our people, let's bring some innovation to it. It is just an additional package to market our Credit Union whilst making our members very comfortable wherever they live. So we heard of REAL which is a foreign organization that build Houses like that for people to pay on mortgage so we decided to engage them and they said they could build the houses if only we could get a land"
She mentioned the construction of the Tamale Interchange as one of the many challenges that has affected the works of the TCCCU in recent times
According to her, access to the TCCCU office in the Metropolis has been affected by the construction of the Interchange
"What happened is that our building is located just near the Central Mosque, hitherto, people who want to access the Credit Unions will just come through the Central Mosque traffic and then come and pack conveniently and clamp up. But with the construction of the interchange, there has a lot of road blockages all over the place, so it has become very difficult for people to come to the office because of whining round, people who have vehicles find it very difficult to get there because when they get there, there is no place to park your car and because of that they don't want to come she said
The TCCCU board chair also mentioned the recent cleanup exercise in the banking sector as one that has affected the works of Cooperative Credit Unions in the country.
To her, many people do not understand the difference between Credit Unions and Microfinance Companies, and therefore thank that they are same
"What happened is that in recent times the Bank of Ghana decided to do what it called Cleanup of financial institutions when they realised that a lot of Credit institutions were not credible and were not doing the right thing and so when they did it they really came up a lot these institutions being asked to close down. Now with the closure, people got their moneys locked up, they cannot access their money. Now, people do not have understanding or the distinction between some of these private owned institutions and the Cooperative business and so because of that, the average Ghanaian has lost interest in investment because the fear is that if I invest my money I may not get it by the time I need or that institution may fold up and that people may abscond with my money"
She stated that, the Credit Unions were different from other financial institutions, and should not be compared with other financial institutions like the microfinance institutions She further called on people to invest their moneys in Credit Unions as they have a robust financial management systems that ensure that the Unions stand the test of time " What we are telling our members is that the Cooperative Credit Union is a robust one, very reliable and have stood the test time. We have existed in many years, we have existed in several countries. I can tell you, countries like USA, Canada Kenya, even workers prefer to take their salaries through Credit Unions than through bank. So that is the confidence we want to put in our members not to compare us with the microfinance institutions, we are different" Madame Christina stated
She thanked all shareholders and customers for showing keen interest in what takes place in the union by attending the Annual General Meetings in their numbers as such meetings, are a statutory requirement and an avenue for the governing board and management to account for their stewardship to stakeholders.
On his part, Manager of the TCCCU, Emmanuel Akaari said the TCCCU was a community base Credit Union that provide loan facilities to people within their operational areas.
He indicated that the TCCCU was working with 240 women groups
He explained that the TCCCU gives loan to customers at a cheaper rate compares to other financial institutions
He added that the TCCCU has an annual recovery rate of 19.5 percent, and called on people especially those in the Tamale metropolis to join the TCCCU to stand the chance of benefiting a loan at a cheaper rate
"Tamale community Cooperative Credit Union is one of the many Cooperative Credit Unions that exist in the northern region of Ghana, thus Tamale. We have three categories of Credit Unions, we have the work base, faith base and community base, we are a community base Credit Union that is open to every one. We provide financial services to individuals within the Tamale and it's environs. As at the end of January this year, our membership stood at 2, 999" he said
He noted that the TCCCU though is a Community based Cooperative Credit Union, offers loan to salary working leveraging on the Controller deductions platform
"Yes, we deal with salary workers, what we do is, the controller deduction opportunity that is given because the controller deduction gives us the platform that we are able to deduct from member's salary direct from controller" he stated