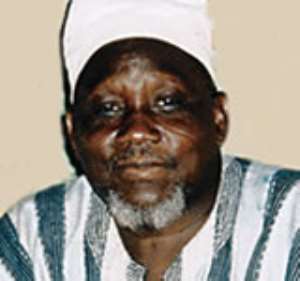 President John Agyekum Kufuor, has visited Yendi to pay tribute to the late Ya-Na Yakubu Andani II and homage to the Regent, Kampakuya-Naa Abdulai Yakubu Andani at the Gbewaa Palace.
President Kufuor congratulated Kampakuya Naa Andani on his successful installation as Regent of Dagbon and urged him to ensure that the roadmap to the peace process was implemented to bring unity and development to the area.
President Kufuor said: "Dagbon is a bright corner of the country and as such, we cannot talk about total peace in the country if there is no peace in Dagbon".
Welcoming the President, Kampakuya-Naa Andani said the President's visit to the Gbewaa Palace was a testimony that Dagbon was returning to normalcy after more than four years of chieftaincy crisis and uncertainty.
He expressed his deepest gratitude to President Kufuor for his personal contribution towards returning peace and tranquility to Dagbon. "I wish to express my profound appreciation to you for the critical step you and your government took in handing over the remains of my late father, Ya-Na Yakubu Andani II, the overlord of Dagbon to the Kuga-Naa and the elders of the Andani Royal Family for burial.
" On behalf of the entire Andani Royal Family and on my own behalf, I thank you and your government for the historic and impressive state burial accorded my late father", he said.
Kampakuya-Naa Andani assured President Kufuor that with the help of the Almighty God, he would endeavour to build on "this new beginning" and ensure that peace, harmony and unity gained firm root in Dagbon. "Dagbon will never slip back into the chaos of the recent past", he said.
He assured President Kufuor of his commitment to the roadmap to peace, saying: "At every point in the process, the traditions and customs of Dagbon will prevail".
The Regent however, told the government that while he continued to express his optimism in the roadmap to peace and remained steadfast in his commitment to ensure its success, much would depend on the request for the rule of law to prevail, which is at the heart of the NPP tradition.
"I renew my call that for lasting and enduring peace to prevail in Dagbon the culture of impunity must stop and the rule of law must be allowed to prevail.
"This is why it is of critical importance that those responsible for the murder of my father and the thirty members of his retinue must be apprehended and brought to justice to send a clear signal...that the law is supreme and that nobody is above the laws of the land," he said.
Vice President Alhaji Aliu Mahama accompanied the President. Alhaji Abubakar Saddique Boniface, Northern Regional Minister, Mr. Stephen Asamoah-Boateng, Minister of Local Government and Rural Development, Mr. Sampson Kwaku Boafo, Ashanti Regional Minister and Mr. Ambrose Dery, Upper West Regional Minister were among the other dignitaries. 07 May 06