Do Not Entertain "Galamseyers"—Asuom Residents Cautioned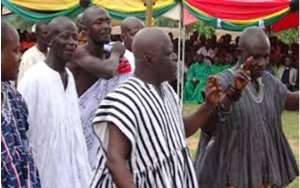 The Nananom of the Akyem – Asuom and its surrounding communities have cautioned all residents not to allow illegal miners "galamseyers" to operate in the areas.
This was revealed by, Osabarima Ofosuhene Appenteng II, the Chief of Asuom at a mini-rally for cocoa farmers organized by the Kade cocoa district in Akyem – Asuom on Friday.
He was speaking on the negative consequences of galamsey on farming activities and water bodies in the region.
"We are noted for producing quality cocoa beans in the Eastern region and we take pride in that and want to continue enjoying that with its benefits" – Nana explained.
He informed the gathering that Nananom and the municipal authority are working assiduously to curb any illegal mining activity in the area and entreated residents to report any operators to Nananom to be dealt with.
Farming is our prime occupation here and we must take pride in this and avoid any quick ways of making money that will have a long-term negative impact on the future of our communities. "Galamsey is a brother to hunger and poverty but farming is a mother of prosperity and we must avoid it at all cost" – He bemoaned.
Farmers at the gathering also recounted how most fertile lands have been lost to the illegal mining operation and not suitable for crop production again. Nananom were applauded for their initiatives to stop galamsey in the area and the farmers are ready to support curb the menace in the area.
The activities of the illegal miners are on-going in the Abomosu, Amonom, Akakom, Sankubease, and Nkurakan all in the Atiwa East and West districts of the Eastern region. Since these communities share borders with the Asuom area and residents perceived that it is possible that the illegal miners may move to their area and cause destruction to their fertile lands.
The residents are calling on the appropriate authorities in the curbing of galamsey operations to help Nananom and the resident stops the operations and preserve the environment for the future generation.