Ghana prepares for third CAF visit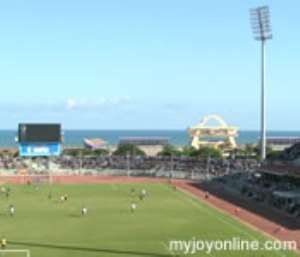 Officials of the Confederation of African Football are expected in the country in the middle of this month to assess the spate of work on the venues for the hosting of the African Cup of Nations in 2008.
This would be CAF's third inspection since Ghana won the bid to host the biennial competition.
Concerns have been raised over the slow pace of work at Ghana's four designated venues.
But CAF president, Issa Hayatou, is confident Ghana would be ready to host the African Cup of Nations in two years time.
Hayatou says the soccer governing body is happy with the progress of work and blames the media for playing down the pace of construction works.
"Immediately we grant the hosting rights of the Nations Cup finals to a country, journalists start publishing stories saying the host country is behind schedule, that the smooth organisation of the tournament is not secured.
"For us there are no worries as to the successful organisation of the 2008 Nations Cup finals in Ghana," he said.
Meanwhile, Hayatou has reposed confidence in the four other African sides participating at the World Cup finals.
The CAF president says Ghana, Tunisia, Ivory Coast, Togo and Angola would put up a creditable performance.