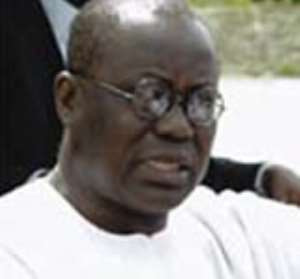 As presidential aspirants of the ruling New Patriotic Party (NPP) engage in overt and covert campaigns, Nana Kofi Coomson, Chief Executive of the Chronicle Newspaper Group, irritated by unsavoury allegations from the camp of one of the aspirants, has drawn first blood.
Without mincing words, he expressed fears about entrusting the destiny of this country into the hands of Nana Addo Danquah Akufo-Addo, one of the presidential aspirants, who was a runner-up to then candidate Kufuor in the NPP's 1998 congress.
He stated in plain language that he could not entrust the destiny of the country into the hands of the Minister of Foreign Affairs, Regional Integration and NEPAD, let alone sleep soundly, with the Minister as president.
"I cannot entrust the destiny of this nation into the hands of Akufo-Addo because I know him. I cannot easily sleep, as a citizen of this country if he is to rule this nation.
This is my opinion, and I hope that Nana Akufo-Addo and his men are listening.
They should take me on, on my views. Let us debate the issues on any TV station. I
am prepared to debate them everywhere," he said.
Nana Coomson, also chief promoter of the Takoradi-based Coomson Private Initiative (CPI), made these observations on Radio Gold's "Newspaper Review" programme, hosted by Mr. Isaac Tetteh, yesterday.
The Chronicle's Chief Executive, who insisted that he could not guarantee the safety of Ghanaians under the presidency of Nana Addo, contended that it was untenable for people to describe the latter as arrogant, but was quick to accuse the campaign/media managers of the minister of not doing enough to enhance his image and erase that perception.
"The man is not arrogant as people claim.
He is a very simple man, because I know him very well. The problem is that he is not well-managed by his managers," he said.
According to the veteran journalist cum business tycoon, who currently employs over 100 workers, Nana Addo performed abysmally when he was Attorney General and Minister of Justice, grading him 3 out of ten (30%).
He pointed out that he had been defeated mostly by one of the legal wizards, Mr. Tsatsu Tsikata, even though Nana was touted to be more prolific in handling legal matters.
According to Nana Coomson, as a practicing journalist with over 25 years experience, he would do his best to ensure that the people made informed choices after he had made proper evaluations on aspirants of the NPP.
Peeved and angry over unmeritorious and baseless accusations that he was paid by Mr. Yaw Osafo Maafo, one of the leading NPP aspiring presidential candidates, to run down other potential candidates, Nana Coomson rubbished the assertions and noted that he was a man of himself, capable of doing his work as a professional journalist without being induced by anybody.
Asked to evaluate the aspiring candidates of the NPP, he said, "It is too early yet; I don't want anybody to lose his appetite this morning."
He however thumbed-up Mr. Kwabena Agyepong for being given the deputy ministerial portfolio for the Sports Ministry, but was quick to add that Mr. Agyepong, the former press secretary to the president had seen the danger ahead and quickly resigned to avoid being dismissed.
In his appraisal of the NDC's presidential aspirants, the veteran journalist, said Mr. Eddie Annan, the Managing Director of Masai Group of Companies, had what it takes to lead the NDC, except that he would need the endorsement of former president Jerry John Rawlings to sail through for the flagbearership.
He described Mr. Annan as a clean man who was not found culpable of any scandal in any of the various investigations, including forensic ones, conducted on him.
He indicated that the former president has a 'negative influence on the Ghanaian psyche,' noting that despite that negative influence, Rawlings remained the most charismatic and one of the best crowd-pullers in the history of Ghana.
After alluding to the virtues of Eddie Annan, he said in spite of the fact that Prof. John Evans Atta Mills, was the front runner of the NDC, he had not got what it takes to win the presidency for the NDC, and predicted that the NPP would retain power in the next elections.
He was of the view that even though John Dramani Mahama was one of the finest guys of the NDC, it was unfortunate that he was not the favoured candidate of party Founder Rawlings.
He advised the NDC to forget about the presidency and concentrate on parliamentary candidates, where he claimed, they could perform very well.
He however refused to disclose his political affiliation, when pushed, adding that as a media man it was not necessary to do that.
Nana Coomson, in a message on the World Press freedom Day celebration,, bemoaned the current poor quality of the products from journalism institutions in Ghana, but pledged his commitment to establish a journalism training school, which would equip students with adequate skills.
Nana Coomson's assertions provoked the Media Manager for Prof. Mills, Mr. Kobby Acheampong, who played down the assertions.
According to him, Kofi's analysis could not be supported by any scientific evidence, and that it was part of a grand design to belittle any candidate for the NDC.
"It is not true that any NDC presidential candidate needs the blessings of Mr. Rawlings.
It is an attempt to say an association with Rawlings links you down," he said, and appealed to Coomson to add science to his research, since Mills is the leading candidate for the NDC.
On his part, the Media Relations Manager of Nana Akufo-Addo, Mr. Gabby Asare-Otchere-Darko, has observed that he has no qualms about Nana Coomson's assertions because he was a senior journalist who had an ear to the ground.
According to him, it was unfortunate that Coomson chose to focus on the negatives of his uncle and said he would leave everything for Ghanaians to decide.
Gabby, who was very careful about his choice of words, claimed that he suspected Nana Kofi Coomson to be a card-bearing member of the NPP. He also dismissed any bad blood between Coomson and Akufo-Addo, but repeated that Coomson knew better than he (Gabby) did.
He disclosed that he had no problem with Kofi's opinion, adding that he had taken note of the human rights records of Nana Addo, as explained by Kofi.