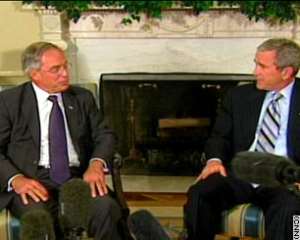 CIA Director Porter Goss is resigning, President Bush announced on Friday.
"Porter's tenure at the CIA was one of transition, where he's helped this agency become integrated into the intelligence community, and that was a tough job," Bush said in a photo session with Goss at the Oval Office.
"He's got a five-year plan to increase the number of analysts and operatives, which is going to help make this country a safer place and help us win the war on terror," the president said.
Goss told Bush: "I believe the agency is on a very even keel, sailing well, I honestly believe that we have improved dramatically."
Goss became CIA chief on April 21, 2005. Previous to that, he was a Republican congressman from Florida for 16 years.
Goss' deputy, who may take over in the interim, is Vice Admiral Albert M. Calland.
Former CIA Director Stansfield Turner told CNN that Goss may have resigned because he was passed over for the new position of director of national intelligence, which went to John Negroponte.
Former Rep. Bob Barr agreed with Turner's speculation and added, "I think there's going to be more coming out, we don't know the whole story."
"This is a devastating blow, the importance of which really cannot be overestimated," Barr told CNN. "It indicates again a continuing downward slide in the intelligence capabilities of our government, it indicates again the disorganization on the part of our intellingence agencies at a time when we can ill afford to see that happen."