Some facts About the New Coronavirus Respiratory Infection in Humans.
Coronavirus Disease-2019 (COVID-19)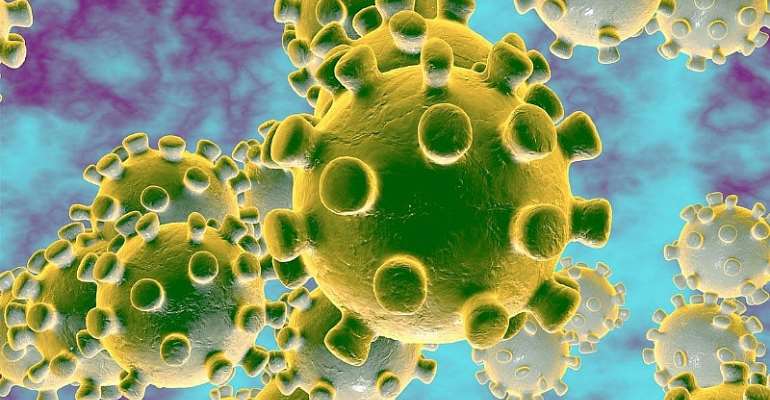 CORONAVIRUS DISEASE-2019 (COVID-19) a disease caused by SARS-CORONAVIRUS-2
Coronaviruses are a large group of viruses that can cause diseases in both humans and animals.
In humans, coronaviruses cause a range of illnesses from the Common Colds to Severe Respiratory diseases.
In other animals, the viruses may cause
. Diarrhea in Pigs, Dogs, and Cows
. Respiratory diseases in Chicken, Pigs
. Pneumonia in the Mouse.
The Coronaviruses have been responsible for the 2002 and 2003 outbreak of Severe Acute Respiratory Syndrome (SARS), and the 2012 Middle East Respiratory Syndrome (MERS)
The recent outbreak of Pneumonia in Wuhan, Hubei Province, China since December 2019 (COVID-19) is due to a new strain of Coronaviruses (the virus has not been previously identified in humans) and has been labelled as, SARS-CoV-2 (severe acute respiratory coronavirus 2). The virus is genetically similar to the 2002-2003 SARS-corona virus.
COVID-19 is an emerging disease, and there is more to learn about the disease pattern and control measures.
VIRAL TRANMISSION.
The SARS-CoV-2 is spread from person-to-person, through respiratory droplets produced when an infected person coughs or sneezes.
The droplets can float toward anyone within about 6 feet (from the person infected with COVID-19) before quickly, dropping to the ground.
The droplets can land in the Mouths, Noses, or Eyes of people who are nearby or could be directly inhaled into the lungs.
Less likely, some people may get COVID-19 by touching surfaces and objects that have the virus on it, and then touching their own mouth, nose, and eyes.
Sick persons, that is, those with Fever and Respiratory symptoms are the most contagious. However, those who have developed no symptoms could still be contagious.
Spread from person-to-person has occurred only among close contacts.
Like other coronaviruses, SARS-CoV-2 could b spread from sick animal s to persons.
SYMPTOMS ANDS SIGNS OF COVID-19
. Respiratory symptoms:
. Fever (Temperature >/=100.4*F, or subjective fever)
. Cough
. Sore throat
. Shortness of breath
. Difficulty breathing.
Severe infections may lead to
. Pneumonia
. Severe acute respiratory syndrome
. Kidney failure
. Respiratory failure
. Septic shock
. Death
DIAGNOSIS OF SARS-COV-2
. Chest CT may show ground-glass opacification and consolidation. It is fast and 97-98% sensitivity.
. Throat Swab for RT-PCR. less sensitive, since it may take 4-8 days for infected persons to develop a positive reaction
TREATMENT & PREVENTION OF COVID-19
Treatment is mainly supportive. Initial trials with Oseltamivir (for medication used for the prevention and treatment of the Flu-virus) in China have been promising.
Preventive measures include:
. Control the sources of infection
. Early diagnosis
. Isolation (quarantine) of suspected cases.
. Early reporting of cases to the appropriate health authorities
STANDARD PROTECTION FOR INDIVIDUALS during an outbreak.
. Avoid close contact with anyone showing symptoms of respiratory illness: Coughing and Sneezing.
Keep a distance of about 6 feet away from such persons. Do not sit/stand near them.
This means, you should avoid crowded places like the Markets, Churches, Funerals, and Schools.
. Cook your Eggs and Meat thoroughly before you eat them.
. Wash your hands as often as you can. washing hands with soap and running water for at least 20seconds is adequate.
You can also use Alcohol-Based Hand Sanitizers (ABHS) that contain 60-90% alcohol too.
For soiled hands, it is always better to wash with soap and water first, before you use ABHS
. Don't spread your infection to others: cover your mouth and nose when coughing, sneezing
EARLY DIAGNOSIS during outbreaks
If you have spent more than 2 minutes in close contact with someone who has been coughing and sneezing, take the following measures during the next 14 days
. Measure your body temperature with a Thermometer twice daily, looking for Fever (>100.4 F or 38 C)
. Watch out for respiratory symptoms like Cough, Sore throat, Shortness of breath.
Notify the Hotline, your Physician, or the Appropriate Health Agencies, if you develop Fever and Any of the Respiratory Symptoms.
You may also get exposed by having Unprotected Direct Contact with Infectious Secretions/Excretions of the patient (example, being coughed at, touching used tissues with bare hands)
DISEASE CONTAINMENT during outbreaks.
For healthcare personnel or relatives who have come into direct contact with persons having COVID-19 without wearing adequate protective gears*,
. Exclude yourself from work, church, gatherings for a period of 14 days.
. Monitor for Fever (take your body temperature twice a day) and Respiratory symptoms for 14 days
Alert the authorities if you develop fever and any respiratory symptoms during the 14-day observation period.
*PERSONAL PROTECTIVE GEARS. (PPG)
Personal protective gears should be worn before any direct contacts with sick persons. They include,
. Gowns
. Gloves
. Eye protection (e.g., goggles, a disposable face shield that covers the front and sides of the face
. Respiratory protector (N95 filtering facepiece respirator)
Scientist are conducting tests on novel COVID-19-Vaccines, and COVID-19-treatment methods in animals. Sooner than later
SUMMARY
COVID19 is caused by the SARS-CoV-2 VIRUS, a virus genetically, similar to the 2002-2003 SARS-Virus
COVID –19 is spread primarily, from Person-to-person. Like most coronaviruses, Animal to Person- transmission does occur.
Scientists are gathering information and knowledge about the disease on a daily basis.
Human vaccines are not available.
Treatment with oseltamivir appears helpful.
Preventive methods include the following:
Avoid close contact with sick persons, stay at least 6 feet away from them.
Avoid crowded places during outbreaks
Do not spend more than 2-3 minutes with sick persons (if you are not wearing protective gear) especially in enclosed areas.
Good personal hygiene is important. Wash your hands often. Do not touch used tissues and contaminated surfaces with bare hands.
When exposed,
. Check your body temperature twice daily. Fever (T>/-100.4*F.)
. Watch out for respiratory symptoms: Cough, Sore throat, shortness of breath/difficulty breathing.
Notify the appropriate authorities when you develop any symptoms within 14 days of exposure.
.