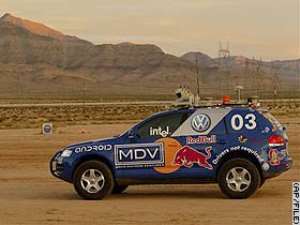 Seven months after an unmanned Volkswagen successfully drove itself over the rugged desert, the Pentagon is sponsoring another challenge for self-driving vehicles that can weave through congested city traffic without causing an accident.
The contest, to be held in November 2007, will test the vehicles' ability to independently carry out a simulated military supply mission in an urban setting in less than six hours.
The Pentagon's Defense Advanced Research Projects Agency, or DARPA, created the latest challenge to spur development of vehicles that could be used in the battlefield without any sort of remote control.
Participants will have to navigate a complex 60-mile test course in a yet-to-be-determined city filled with moving vehicles -- both manned and unmanned. The test course will be designed like a real city street where vehicles will have to make sharp turns, navigate intersections and avoid crashing into obstacles such as utility poles, trees and parked cars.
Equipped only with a computer brain and sensors, the participants will be graded on how well they can obey traffic laws, change lanes, merge with moving cars and pull into a parking lot.
The first vehicle that successfully completes the mission will win $2 million. Unlike previous DARPA contests, in which the winner takes all, second-place finishers will get $500,000 while third place will receive $250,000.
Last October, DARPA awarded $2 million to a driverless Volkswagen SUV, which beat out a field of 23 vehicles by traversing 132 miles of twisting desert and mountain terrain. While the vehicles had to drive on rough road and dodge man-made obstacles, they didn't have to drive in traffic.
"We believe the robotics community is ready to tackle vehicle operation inside city limits," DARPA director Tony Tether said in a statement.
Stanford University computer scientist Sebastian Thrun, who won last year's race, said he was excited to see DARPA take the challenge to the next level. Thrun said the artificial intelligence knowledge gained from the contest could also benefit society by pushing the development of "smart cars" that can self-navigate on highways and potentially reduce accidents.
DARPA can choose to fund certain teams to build their vehicles. In turn, the agency will receive some licensing rights to the technology that's developed. Or teams can raise their own money to build their vehicles. Either way, teams will face off in a semifinal match and the field will be winnowed down to compete in the final round.
DARPA -- faced with a congressional mandate to have a third of all military ground vehicles unmanned by 2015 -- created its first challenge in 2004 in the Mojave Desert. But the race ended without a winner when all the entrants broke down before the finish line.