JAK supports Japan's UN bid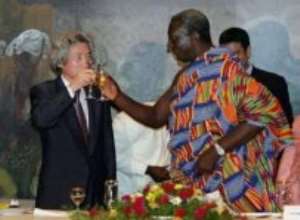 Accra, May 2, GNA - President John Agyekum Kufuor has declared Ghana's support for Japan's bid for a permanent seat on the United Nation's (UN) Security Council.



Ghana, he said, wanted to see the UN system reformed to become more democratised with Africa and other geographical areas represented on the Council, the Executive arm of the UN.
Africa is looking for two permanent seats and if from the Far East, China is there, Japan should also be there, President Kufuor stated when he and the visiting Japanese Prime Minister, Mr Junichiro Koizumi answered questions from Journalists after their summit meeting at the Castle, Osu.
The meeting discussed bilateral relations and reviewed the multi-lateral situation.
President Kufuor said there was no request from Japan for support of its bid during the talks but the fact was: "We have moved away from the immediate post war era and bi-polar world" and, therefore, the Council's permanent members should be from all parts of the world. He described the talks as fruitful and said the Japanese Premier's visit would go down as historic.
He expressed Ghana's appreciation to Japan for its immense development assistance and recalled its one billion-dollar debt write off after the country had completed the Highly Indebted Poor Countries (HIPC) Initiative completion point in 2004. President Kufuor said the idea of instituting the "Noguchi Prize" by Japan to honour outstanding medical researchers, who contributed towards the eradication of diseases in Africa would deepen the bond of friendship between that country and not only Ghana but the entire Continent.
Selection of the Prize Winners would not be done on the basis of nationality but that the research should have to be carried out in Africa.
On the sudden interest being shown in Africa not only by countries in the Far East, the United States and the European Union, President Kufuor said the whole world was waking up to the reality of the African situation because, the Continent should be in the mainstream of globalisation.
The New Partnership for Africa's Development (NEPAD), an initiative of the African Union (AU), he said, was about attracting partners to the Continent. Mr Koizumi ends his visit to the country on Wednesday.