US HIGH SCHOOL STUDENTS LEARN COMMUNITY BUILDING THROUGH AFRICAN DRUMMING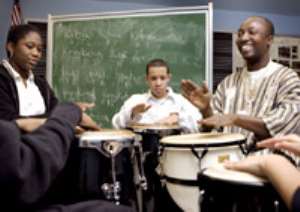 Ebony Mauney (from left) and Travis Nieves try to keep up with teacher Harold Akyiampong. Credit: Klaus Schoenwiese
Introduction:

A special and fruitful collaboration among a Ghanaian cultural educator/consultant in the USA, Mr. Harold Akyeampong, the Working Playground Inc and the Facing History School, New York City has resulted in a quality and significant use for African percussion in the United States. Mr. Akyeampong, a Mankessim native is making waves in New York by teaching his high school students a life skill of how to build community through African Drummin. The enthusiastic chants of the call and response " Agoo" and Ameen", thunderous drumming suites of Ogunbela, Munpurugu, Kpanlogo and Karl-Kitan are some of the traditional and creative processes that students at Facing History School (FHS), go through in making music together as part of classroom work of learning new ways of building communities, showing tolerance for opposing views and self expression.
The Facing History School (FHS) is one of the dozens of new secondary schools opened in fall (September), 2005 in New York City. Based on ideals of studying and knowing the past as a key to enhancing the present, the school opened with the first class of 9 graders and it will add a class each year until it becomes a full 9th-12th grade. The FHS curriculum is based on the guidelines provided by its lead partner organization, Facing History & Ourselves, (FHAO). The FHAO is an international organization that has over 28 years of experience helping schools to create rigorous, relevant, and exciting curricula. As part of the FHS curriculum to promote multiculturalism, Music; Yoga,; Fine Arts and Poetry are part of the school's rigorous programs. This is where collaboration with the Working Playground was necessary. The Working Playground is a not-for-profit cultural organization, founded in 1991, with the belief that art is essential to human development, education and culture. By supporting underserved schools and communities Working Playground inspires, enlivens, and enriches students' educational experiences with the in-depth study of an art form. Through a dynamic range of programs including theater, playwriting, animated video production, documentary and film, instrument building, science cartooning, dance performance and spoken word, Working Playground empowers youth to develop the creative and analytic impulses that will serve them as students, professionals and citizens.
The aim of the program is to use the four habits of learning of Independence, Interdependence, Interpretation and Voice to achieve broader objectives of students learning academic, artistic and life skills. Mr . Akyeampong is a teaching artiste and cultural consultant for the Working Playground Inc.
The music program is divided into two classes of E and F Blocks (as names of classes are known at FHS). The class' sessions are held on Tuesdays and Thursdays from 1:55pm to 2:55pm for E Block and from 3:00 to 4:00pm. The classes are held at music room G 71 located in the basement of the Parkwest Educational Building Complex.

Our Journey:

In the class, students are introduced to various types of musical instruments which includes traditional African drums and contemporary instruments such as the popular Conga drums. Ngoma, Dundun, Kinkini, Dawuro Nta and Awosowa are some of the traditional African musical instruments used in class. Using essential questions and following lesson plans, students are taught about how the instruments are made, what they are made of, which people make them and how the environment influences how people make music in their respective countries. They are also taught the role of music in various world cultures and how African music has influenced the West especially American's contemporary music like gospel, hip hop, rap, house, orchestras etc. Among the highlights of the past semester were the opportunity for the students to perform at the school's assembly during the opening ceremony in November, 2005 where the NYC's Board of Education's chancellor, Joel Klein was the special guest of honor and a speaker. The opportunity to perform at the Bowery Poetry Club in January was the culminating event for the first semester. At these events, the students not only performed before an audience, but they learnt the application of stagecraft as well as how to be participating audience members. The current class has also had the opportunity of performing with a professional performing group from Ghana, the Elmina Dance Ensemble.
As with all new programs, the beginning of the classes are not without problems especially for students many of who are not familiar with cultures other than theirs. To make the program relevant, students are introduced to the geography of the world, the location of Africa, its people, history and the culture. Students are also introduced to the syllabus and the rubrics for the semester. In the class, students are taught hands playing techniques in drumming of Slap, Tone and Bass for Djembey drums from the Sene-Gambian region of West Africa. They are also taught the Tone and Bass for the Congas as well as stick playing techniques for other West African rhythms. Students are introduced to some African chants, call and responses as well as some African songs. Students are also given the opportunity in learning how to deconstruct traditional musical pieces from Africa and composed rhythms through special techniques taught in class.
In order to make connections, students listen to different genres of recorded contemporary music on such as gospel, reggae, dancehall, reggaetton, jazz, house, country, rock, hip hop, rap, salsa, meringue and highlife, soukous, zouk from Africa, all on CDs.
Students also have the opportunity to watch video documentaries and shots of people making music in Africa and in other cultures.

Our Success Story-Applying the Four Habits of Learning:

In many traditional cultures around the world, people celebrate life with music. In Africa, making music is a communal event where both the performers and the audience play important roles. Drumming plays a significant role in these life celebrations. As many of the traditional drumming groups and suites are played in an ensemble setting, the promotion of a sense of community cannot be overemphasized. Students in this class are learning a habit of learning principle such as INTERDEPENDENCE by playing in an ensemble setting. They are learning an artistic skill by playing in the group. They also learn a life skill by learning how to work together, accept constructive criticism and build confidence.
Students also learn how to play as soloist or as individulas. As a habit of learning, it refers to INDEPENDENCE. By playing individually, students are inspired by the drumming vocabulary that they learn in class. To reach that level of Independence, students have to apply another habit of learning known as INTERPRETATION. This is done by their listening to traditional music, composed rhythms and contemporary music and then interprets it through deconstruction of the piece. To express themselves and play well, they have to apply all the principles learned and to bring out their own rhythms hence their own VOICE.
Another point worth noting is that drumming in Africa imitates the nuances of the human voice and is used mostly to communicate. Like any other language in the world, to communicate well and effectively, one needs a large stock of vocabulary. Students are taught on how to brainstorm these sources and are taught how to play distinctly so that dancers and the audience can hear, interpret and enjoy their performances.
Students have not only learnt how to play drums but how to sing as well. Songs such as Agoo, ABCD , Obrumankoma and Kusum Agoro are being taught in class.
All these artistic, academic and life skills learned in class were evident during the culminating event at the Bowery Poetry Club held in January, 2006 and during the visit to the school by the Elmina Dance Ensemble. Students such as Ebony, James, Valentin, Talisa, Aisha, Zach, Rafael, Jose, Olivia, Mac treated their own mates, teachers and the audience to some pulsating drum suites through solo work, duet as well as played in an ensemble setting.

Conclusion:

Lessons learnt from the first semester experience are helping to shape programs for the most current semester. The school has augmented its instrumental resources by purchasing additional conga and African drums.
Hear Mr. Akyeampong promotes his class in the school's magazine "In this class, students will be able to play instruments, sing songs and play games from Ghana and other parts of Africa. This is to enhance their appreciation for cultures other than theirs. The course will also equip students with knowledge in musical cultures around the world and how it affects the everyday life of the people who practice it. It will also teach the students how to be creative by emphasizing self-awareness, greater listening ability skills and confidence in solo and ensemble performance setting. The experience gained in playing together will teach them to be team players, show tolerance for each others opposing or supporting views, cooperation and responsibility. It will also give the students an alternative to being violent or to channel their energy to drug use. The ultimate goal will be the acquisition of a life skill that will transform them to be productive world citizens to promote global peace and understanding.
One more attraction in the school is the establishment of a permanent FHS Ensemble that will participates in local, state, national and international drum festivals and other cultural programs. This will give them special performance experience outside the school.
According to Mr. Harold Akyeampong, who is also the President of the Ghana chapter of the world renowned Percussive Arts Society, plans are afoot to bring some of his students to Ghana to participate in a Youth Cultural Festival in the Assin South and Adansi South districts in July, 2006 and to participate in a Drum Festival at Mankessim in August, 2006. And the good news is that Mr. Akyeampong is wooing his US employers to extend their program to Ghana. Could July be the time for making contacts and to do feasibility studies in these communities? Let's wait and see.


Harold D. Akyeampong,
APPLIED MUSIC CLASS:
FACING HISTORY SCHOOL.
New York.