Airbus Scandal Reveals The Corrupt Nature Of NDC And Mahama's Administration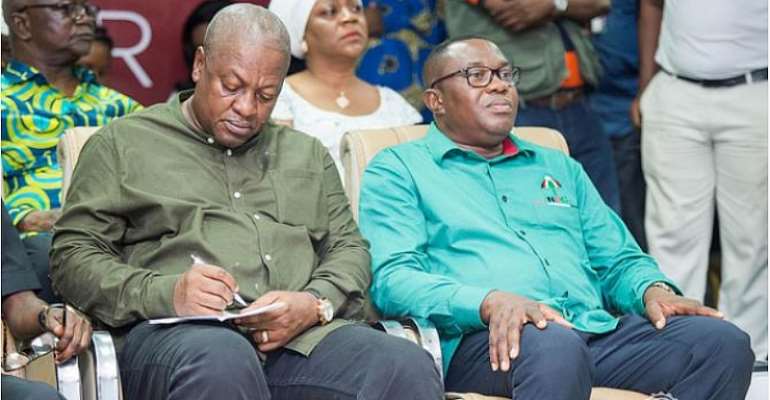 Since Ghana started multi-party Democracy from 1992, there have been several allegations of corruption against each other by the two major political parties namely the New Patriotic Party (NPP) and the National Democratic Congress (NDC). Over the years, these allegations are basically leveled against the party in power.
Until the airbus scandal broke out, many of us believed, corruption allegations were mere political gimmick especially when it is against the NPP because as soon as the party in power loses the election, the allegations take another turned. This Airbus scandal has affirmed the fact that corruption allegations against NPP are always baseless.
From 1992 to 2000, the opposition New Patriotic Party (NPP) leveled so many accusations to the then ruling National Democratic Congress (NDC). When NPP came to power between the years 2000 to 2008, we saw a number of ministers and Government appointees from the previous administration under the NDC who were convicted by a competent court of Ghana on various corruption-related crimes.
We do not need to remind Ghanaians about the Quality Grain Scandal and others. Some ministers and Government appointees went to jail for years and some given presidential pardon because the then NPP administration under the leadership of Ex-former president John Agyekum Kuffour was too lenient to them.
During the period of 2000 to 2008, when many government appointees of the NDC were standing trial for their corruption deeds, some NDC party executives leveled so many allegations on corruption grounds against the NPP, the then ruling party. It was quite surprising when NDC took over from the NPP between the years 2008 to 2016, not a single NPP minister or government appointee was found to be corrupt. An indication, corruption allegations against NPP are always baseless and unfounded. Under Mills/ Mahama Administration, The NDC could not substantiate any of the numerous allegations against NPP but went ahead with their normal business as usual by giving corruption a new slogan "e de bii ke ke". As the saying goes, "Just as the sun did not last in the sky forever and so will the moon".
The inactions and actions of Mills/Mahama leadership, as well as the dubious means by some of their criminally-minded appointees to enrich themselves and their families, were causing a lot of hardship to the citizens. Ghanaians were tired of frustrations and hardship being unleashed to them especially during the second term of NDC by Mahama administration and voted massively for Ghana's messiah, Nana Addo Dankwa Akufo-Addo in 2016 general and parliamentary elections.
Nana Addo who vowed to take Ghana to the next level because of his love for mother Ghana stayed focus on his agenda to develop the country, strengthen our democracy and rule of law. Within this period Ghana has witnessed a bunch of Charges of corruption against Ministers and Government appointees under Mahama Administration. Ghanaians cannot forget the MPs double salary saga, Masloc, Woyome scandal, Gyeeda and many more. Whilst Nana Addo is trying to fix the serious mess created by Mahama administration, another scandal under Mahama administration broke out which is subjecting the whole country into a serious embarrassment: Airbus Scandal.
It would be recalled that late last month, there were revelations by one of the Leading plane manufacturers in the world, Airbus SE, that it had an elaborate scheme that paid some €5 million to officials under the erstwhile National Democratic Congress (NDC) government, mainly through a close relative of a key elected government official at the time the bribe was paid.
Some Ghanaians who are curious to know the officials involved are digging deeper into clues provided by the company in court documents. After carefully studying the ruling as well as various articles written by knowledgeable people and the defense being put up to shield this serious offense by the NDC and for that matter, John Dramani Mahama, all we can do is to weep for mother Ghana. The only meaning to the defense being put up by the NDC is to glorify this dubious act called corruption.
Section 170 of the ruling document states "between 2005 to 2016, Airbus Defense Company engaged Intermediary 5, a close relative of a high ranking elected Ghanaian official (Government Official 1) as its BP in respect of the proposed sale of three aircraft to the government of Ghana. A number of Airbus employees knew Intermediary 5 was a close relative of Government official 1, a key decision-maker in respect of sales.
The question now is who could this Elected Government official 1, a key decision-maker in the acquisition of aircraft for the Ghana arm forces be? The statement went on to say, the Elected Government official assumed office in 2009 and was still in office in 2015. Three government officials who were key decision-makers for the purchase of military aircraft are:
(i) The president of the Republic and the Commander in Chief of the Ghana- Arm-Forces.
(ii) The Vice President and the Chairman of the Ghana Arm Forces Council.
(iii) The Minister for Defense.
In 2009, Ghana's Defense Minister was Lt. Gen. Henry Smith. He was not a member of parliament and was not an elected official for any position in the country. He was a Government appointee and could not be referred to as elected government official 1. The next Defense Minister who was an MP was Mark Woyongo, he served between February 2013 to July 2014. Mark Woyongo was an MP but he was elected by his constituency to parliament in 2012 elections. So we can't possibly say Mark Woyongo was the elected Government Official 1 because he was not in the office in 2009.
The next Defense Minister was Dr. Benjamin Kumbour who was also an MP but it's interesting to note that he became Defense Minister in July 2014 and thus could not be the key decision-maker in 2009. With this breakdown, it leaves us to President Mills and the then Vice President John Dramani Mahama as suspects that were elected Government officials with key decision-making powers concerning the purchase of aircraft for the military.
It is quite sad the late President Prof JEA Mills, passed away in July 2012, May his soul rest in perfect peace. Koku Anyidoho will agree with us Prof Mills was not in power in 2015 and could not be the Elected Government Official 1 we are looking for. At this point, all evidence is pointing to the direction of John Dramani Mahama who was elected into office in 2009 together with Prof. JEA Mills and thus an elected Government Official.
As Vice President, He was the Chairman of the Ghana arm forces council, which means he was a key decision-maker in the acquisition and procurement of Military equipment's including aircraft. In 2015, John Mahama was still in office, this time as president so he happens to be the only person who fits this narrative. But who is this Intermediary 5 who also doubles as a relative to Government official 1?
Section 173 of the court documents states in part as Intermediary 5 is a UK national born in Ghana. He was brought to the United Kingdom as a young child and lost touch with his family until the 1990s. He had no prior experience in the aerospace industry. A "CV" presented to airbus in 2011 listed intermediary 5s employment before 2009 as events manager for a local authority, Director of a football merchandising company and facilities manager for an estate management business.
A careful search for the identity of Intermediary 5 took us to a book titled "My First Coup d'état" written by Former President John Dramani Mahama who is suspected to be the Government Official 1. He spoke about his family in the book and the page we are interested in is page 260 of the above book. He says and we quote as follows: There was one Member of our family with whom Dad was interested in connecting, his son Samuel. When Samuel was nine years old, Dad had allowed the headmaster and the headmistress of his school to take him to England with them.
They were a middle-aged couple, childless missionaries with whom dad had become close. They were fond of Samuel and wanted to oversee the remainder of his primary education in London. Dad who was always wanted to ensure the best education for his children agreed. Ones the couple arrived in London, they fell out of touch with dad, and he never saw his son Samuel again. Could Samuel Adam Foster fit this narrative being used to describe intermediary 5? According to the court documents, there were two companies that were involved in the Airbus scandal and through these companies, false documentation was created by or with the agreement of Airbus employees in order to support and disguise these payments. The payments were intended to induce or reward "improper favor" by Government Official 1 towards Airbus." a search in the register general's department of Ghana reveals one of the two companies called:
(1) DEEDUM Limited Ghana which was incorporated in Ghana February 2010 with three directors namely,
(I) Nana Kwaku Donkor (Company secretary)
(ii) Philip Sean Middlemiss (director)
(iii) Samuel Adam Mahama (a relative of John Mahama as Director).
(2) A check online also reveals that on February 10, 2010, DEEDUM limited was incorporated in the UK with three directors namely
(i) Leane Sarah Davis (Company secretary)
(ii) Philip Sean Middlemiss(Director)
(iii) Samuel Adam Foster (UK National who is also a relative of John Mahama who lost touch with his family since infancy till the 1990s).
A further Check indicates apart from these two companies sharing a director we found the following similarities. Deedum limited registered address in UK: 6th square, Ringley chase Whitefield, Manchester is the same address for Philip Sean Middlemiss when he presented himself as the director for DEEDUM Ghana limited. Samuel Adam Foster had the same address as Samuel Adam Mahama, (19 Avenue Road Penge, London) and is the same address Samuel Adam Mahama gave when he was registering as a director for DEEDUM Ghana limited. Samuel Adam Foster's background list his Occupation as Director, Facilities Manager, and event Officer among others which are clearly in line with the occupation of Intermediary 5 stated in section 173 of the Court documents.
Finally, in the courts documents, Section 178 reads and we quote: In January 2010, Airbus Employee 16 was made aware that Intermediary 5 (Suspected to be Samuel Adam Foster) and Intermediary 6 (Suspected to be Samuel Adam Mahama) was working for Government official 1 (Suspected to John Dramani Mahama) all based on the analysis of the court documents. Ones they were working for government official 1, how then Opposition National Democratic Congress wants to dissociate their Flagbearer John Dramani Mahama from this bribery scandal? Have we soon forgotten about the law of agency and the responsibilities of agents to their principal if these close relatives were agents of Government Official 1?
This is not the kind of crime, Ghanaians should play with, the crime is so serious that the company has been found guilty on the grounds of failure on the part of Commercial organization to prevent bribery contrary to section 7 of the Bribery Act 2010 but in Ghana, NDC wants to throw dust in the eyes of Ghanaians whom they have taken for granted over a long period by glorifying this dubious means of enriching one's self and family at the expense of the taxpayer. It is quite interesting to note that government official 1 was under an oath of office to protect the integrity of the country when all these went on which has now subject the entire country into such an embarrassment.
One thing that baffles me a lot is that anytime NDC is in power, corruption will be at its peak, evidence of this can we deduce from the number of NDC appointees who have served jail terms and those who are still serving jail terms together with the numerous NDC officials who are standing trial on corruption-related offenses in the country.
In fact, the kind of corruption experienced under John Dramani Mahama's administration was one of its kind and base on his track record as an incompetent manager of Ghanaian economy, the level of corruption that went on under his supervision and the embarrassment his actions have cause mother Ghana, all we will say is Ghanaians should not only reject him but should pray hard that never again should Ghanaians make the mistake of voting for NDC and John Dramani Mahama to come with the intention of milking Ghana like that.
Signed:
Philip Agyei Peprah, Ph.D.
Moses Antwi, MPhil.
Poku Gyasi Ph.D.