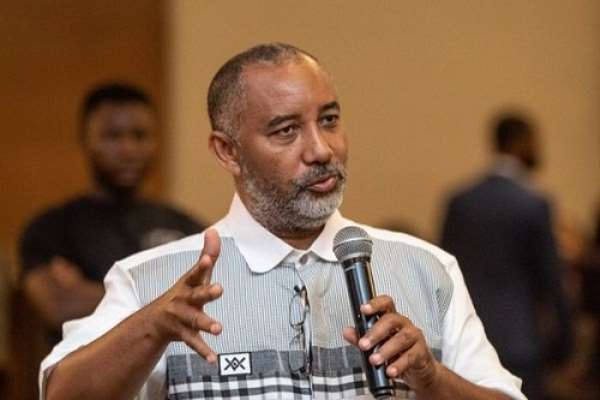 Alex Mould
The Ministry of Energy has described as factually erroneous and complete misinformation comments made by the former CEO of the Ghana National Petroleum Corporation (GNPC) boss Alex Mould on amendments made to the Petroleum Agreements of Aker Energy and AGM.
In a press statement issued by the Ministry, it said it was surprised by Mr Mould's attempts to misinform the public.
Mr Mould in an opinion piece accused the government of President Nana Addo Dankwa Akufo-Addo of rushing amendments through Parliament, to approve significant changes to the upstream petroleum sector without following the due process.
He described the amendments as the most radical political attack on Ghana's upstream petroleum sector since the commencement of the fourth republic.
He said the entire integrated Plan of Development (PoD) resubmitted by Aker Energy in relation to the Pecan oil field and passed by Parliament would rob the nation of billions of US dollars which would directly benefit Norwegian Multinational, AKER which owns and controls both the Aker Ghana and AGM operated Oil Blocks.
However, the Ministry says the amendments to the Petroleum Agreements of Aker Energy and AGM were to provide regulatory certainty and incentives to support the realization of Aker's Pecan Project and increase investment in the AGM block respectively.
"These incentives have already yielded positive results for the country as AGM recently announced crude oil discoveries following an accelerated drilling campaign," the statement said.
The statement stressed that provision of such incentives were not new and intended to increase oil production, provide job opportunities and value addition to the Ghanaian economy.
"The NDC government provided incentives to the ENI Sankofa project including; a gas price of $9.8 per mmBTU, prioritizing Sankofa gas over free jubilee gas, an exempt debt-equity of 2:1 on all commercial loans at 7% interest which was not allowed under the Petroleum Income Tax Law (PNDC Law 188); and upfront payments of free fiscal support of $125 million to the Contractors by GNPC. These incentives were negotiated by officials of the then NDC government with Mr. Alex Mould bearing the ultimate responsibility as head of GNPC".
According to the Ministry, Ghana was currently suffering from the bad negotiations which were signed by Mr Mould.
"The focus on Aker Energy is most unfortunate and intended to derail the progress made towards increasing oil production from the Pecan Field, as other companies have been supported with similar incentives through their Petroleum Agreements or regulatory amendments such as ExxonMobil, the Jubilee Field Partners and ENI.
"Government assures Mr. Mould that we will not lose focus in our efforts to increase petroleum activity as we are reversing the trend of low activity bequeathed by the NDC to the current Government," the statement emphasised.
---with files from graphic