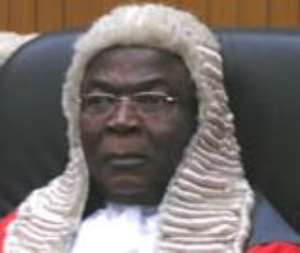 An Accra based lawyer, Bright Akwetey who has already petitioned President Kufuor to remove the Chief Justice, has again petitioned the president to suspend the CJ for the period that the cases against him will be heard.
In his second petition to the President dated April 27, 2006, Mr Akwetey said it would offend the principles of natural justice and equity if Chief Justice Acquah was allow to empanel the judges to sit on a matter fixed for the Supreme Court in relation to the earlier petition against the Chief Justice.
The Supreme Court will on Tuesday begin hearing the case in which Frank Agyei Twum is challenging the action of the President in setting up a committee to investigate allegations of abuse of office against the CJ. President Kufuor set up the committee following allegations made in the earlier petition by Mr Akwetey.
However Mr Twum in challenging the action, is invoking the original jurisdiction of the Supreme Court for a declaration of an inter alia, that the appointment of a committee to inquire into the petition "Constitutes an interference with the judicial functions" and also that "Article 146 requires that a prima facie case be established on the petition before the setting up of a Committee of Inquiry". The writ was filed by Mr Twum at the Supreme Court on March 15, 2006 to be heard if the Chief Justice was allowed to empanel the judges; it would offend the rules of natural justice which required that "no one should be a judge in his own case".
He said the case at the Supreme Court related to that self-same enquiry and appealed to the President to invoke Article 146 of the Constitution, under which he argued that the President had the power "to suspend the Chief Justice for purposes of an enquiry for his removal."