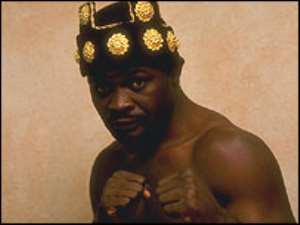 The Ghana Boxing Authority is considering appointing Boxing legend Azumah Nelson as Technical Director of Amateur and Professional boxing in the country.
With the boxing scene experiencing transformation in terms of administration, the GBA has found it expedient to seek for the expert services of the boxing professor.
Chairman of the GBA, Moses Foh Amoaning told Citi FM that the move is for an effective progression of boxers from the amateur level to the professional level. He insisted that the experience of Azumah Nelson will go a long way to lift the image of boxing in the country.
Meanwhile the Professor has maintained that he is ready to assist in lifting the fallen image of boxing in the country.