Mahama Will Take Ghana Backwards — Akufo-Addo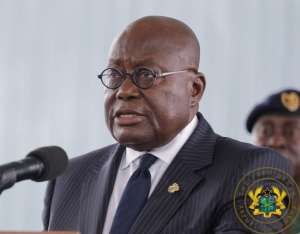 President Akufo-Addo also chided John Mahama, telling the party faithful that former president John Mahama's second term bid is only to come and reverse the gains the country has made.
"Someone said the work he started is uncompleted and so he wants to come back and continue. Let's ask Ghanaians, what work did he do? During his time, everything was in reverse. He is coming back to take us backward but no, we will go forward and not backwards… We will not make that mistake. To date, we've not heard any policy from him. 7th December, we will go with our strength and unity to do more than what we did in the 2016 elections. You are the hope of Ghanaians. My plea is simple, help me so that Ghanaians can get 4More 4Nana, 4More to do More," he added.
If the President is endorsed by the delegates, he will face former president John Mahama, flagbearer of the largest opposition party in the country, the National Democratic Congress (NDC).
John Mahama is seeking a comeback after losing the presidential seat to a second-time contestant, Nana Akufo-Addo in the 2016 elections.
While Akufo-Addo polled 5,755,758 votes representing 53.7% of the total valid votes cast, John Mahama polled 4,771,188 votes representing 44.5%.
---citinewsroom