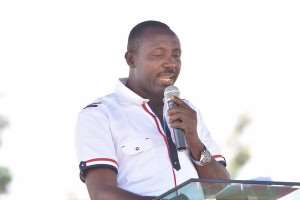 Alhajj Suleman, Germany
19 February 2020
Dear JB,
I am not in the mood to extend felicitation to you in this letter to you. This is because there're loud bells of failure ringing ragingly. These bells are telltales of doom and that's why I must not gladden your heart with any felicitation.
To the point - JB, I admired you so much while we were in opposition. I fought to defend you whenever you came under attack from the "outcasts" of the party on social media. Though I had never met you, I believed in your fair judgment and competence and thought the party could rely on you for victory in 2016.
Fine, you did well and like everyone else, you stood firmly during the tortuous times of the Afoko brouhaha for the party. Lo and behold, the party won power defying all doom spells.
Delegates decided to reward you with the Gen Secretary position because after all, you steered the ship as both organiser and secretary in the periods I described supra.
All the admirations appear to have withered away while you continue to enjoy power. The overcheers of power appear to have a negative toll on the once 'principled' JB. Or maybe the office of Gen Secretary is too big for? Or prior to assumption of power, you were only dramatising the qualities we saw in you? Or some powerful hands are muscling you and preventing you from working?
Whatever the case may be, your tenure as the CEO of the party appears to be the worst in the history of the party. All elections under your watch, have been filled with strife, mafia, rumpus, and violence in some cases. From the orphan constituencies primaries to the current primaries, glaring disorderliness with complicity of party hierarchy, have taken the centre-stage - giving the party bad press like what happened during the Afoko brouhaha.
I thought in power, we seal cracks, consolidate base and hold on to power. The reverse is what is happening under your direct watch. Let me ask you JB, do you go to sit as National Council to approve guidelines for formalities sake or you actually mean the guidelines you put out? I doubt the latter is the case since all juxtapositions would point to the former.
Have you thought of the repercussions of all these schemes you are supervising? Disqualify one candidate unfairly and you may loose 100 votes. Refuse to sell forms to candidates and you may lose a thousand votes. I know you know election mathematics is not rocket since - 50% plus, remains the algorithm for choosing a winner. Don't be deceived by the prophecies of Owusu Bempah. Any experienced political party administrator knows parties in power are usually hit with apathy going into their second terms. Add that to the repercussions of your mafia schemes and you'll see the gloomy picture even in wooden glasses.
Note, I'd in the future, be at the forefront to campaign against you should you put yourself up again for re-election as Gen Secretary. You have failed woefully and must be told in plane language. If a Gen Secretary cannot ensure orderliness in internal elections of a party that's in power, then, such a secretary is as good as a plank.