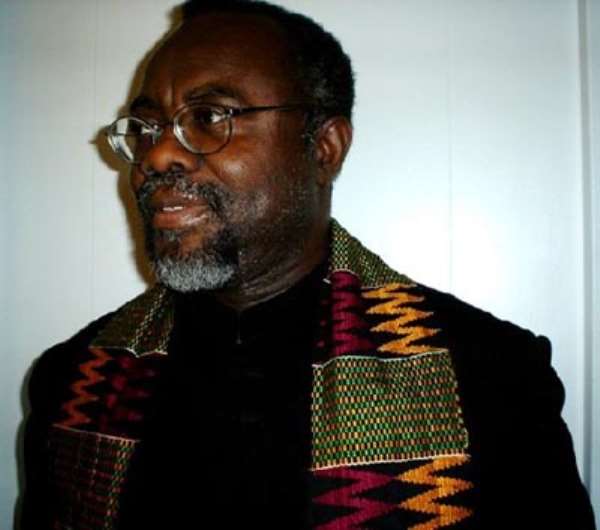 There is an article in today's edition of Ghanaweb.com (1/6/20) that is sourced to MyJoyOnline.com and captioned "Nigerian Diaspora Commission Denounces 'Unauthorized' Door of Return Campaign." The brief news item does not clarify it, but it appears that the Nigerians have established their own version of Ghana's Year of Return commemorative festivities which have yet to kick off, and that the official sponsor of these events or festivities is the Nigerian Diaspora Commission. There also appears to be some confusion here, however, because although the Nigerian Diaspora Commission is reported to have issued a press statement indicating that there is another group or establishment by the name of Door of Return, an "unauthorized" body that also claims to be sponsoring Nigeria's version of the Year of Return.
I suppose the press release allegedly put out by the Nigerian Diaspora Commission is meant as a cautionary note to anybody in the African Diaspora who may be intent on or may be planning to participate in the Nigerian version or edition of Ghana's Year of Return commemoration. Whatever the preceding may be pointing to, we also have the same supposedly "unauthorized" Door of Return group posting something on Twitter to the effect that "the Nigerian Diaspora Commission [has] said [that] together with the Lagos State Government, the African Door of Return Experience and the African Renaissance Foundation, it has been organizing the Door of Return in Badagry, Lagos[,] for the past three years [, that is,] since 2017."
There appears to be some confusion here emanating from either deliberate disinformation or inadvertent miscommunication or, perhaps, there is "confusion in hell" that somebody does not want the public and/or the world outside Nigeria to be in on or about, obviously because somebody who has been feeding fat on such confusion may be likely to lose out on the same. You see, this apparent snafu readily brought to mind the recent article authored by the Jamaican-British or British-Jamaican entrepreneur and writer by the name of Paul Boakye, titled "What Nobody Tells You About Moving to Ghana As An African American or Caribbean Returnee," that was published in the Ghanaweb.com edition of January 3, 2020.
In the afore-referenced article, Mr. Boakye underscores what the writer deems to be one of the most salient character-profile differences between the stereotypical Ghanaian and the Nigerian. It is "stereotypical" or a stereotype because whether accurately or inaccurately, many Ghanaians are known to believe this as well. Which is that, by and large, Nigerians tend to be relatively more business savvy and business-oriented than their Ghanaian counterparts which, in the opinion of Mr. Boakye, may partially explain the exponentially high rate of unemployment in Ghana.
This may be purely anecdotal and scientifically moot, because the Jamaican-British or British-Jamaican writer does not provide his readers with any forensically and/or scientifically provable statistical evidence indicating that, indeed, relatively speaking, Nigeria has an appreciably lower rate of unemployment than Ghana because Nigerians, generally, tend to be more entrepreneurially agile than their Ghanaian counterparts. Mr. Boakye's comparative take on Ghana and Nigeria may be reasonably deemed suspect because he does not tell us, his readers, that he has spent any remarkable span of time living and doing business in Nigeria for the approximately six years that he claims to have done in Ghana.
One can almost be certain that if Mr. Boakye had lived in Nigeria for the same amount of time that the writer claims to have done in Ghana, he definitely might have come away with some interesting and not-so-flattering knowledge about some seamy aspects of life and culture in West Africa's most populous country or largest economy in much the same way that he did with Ghana. Perhaps even much worse. And on the latter count, of course, I am thinking about that portion of Mr. Boakye's article dealing with ethnic conflicts, in which the author makes the following observation: "After only a short time in the country, you begin to see that there is little trust between neighboring folks, let alone between the various ethnic groups and clans. Each person has to be second-guessing the real intention of others, and the gap between what people say and what they will do. You begin to wonder how easily Ghanaians must have been duped into selling their fellow citizens into transatlantic [sic] slavery for trinkets and useless shiny things."
This quote from that portion of his article subtitled "Ethnic Conflicts Are Rife" readily recalled for me the Biblical story of the sale of Joseph into Egyptian slavery by the victim's own brothers. As well, it reminded me of the fact that we are often deceived by the neatly crafted official narrative of the Jewish Holocaust, in which all the victims and/or targets of Nazi persecution and genocide are neatly painted with one brush stroke of innocence and the Nazis, who are often made practically indistinguishable from the general German population, are also "neatly" painted with one brush stroke of the implacably and pathologically evil. Of course, we all know that the grim reality was often somewhere in-between, with evildoers present and often emerging from both sides. In this instance, however, the question becomes one of which side contained the greater magnitude of evilness.
*Visit my blog at: kwameokoampaahoofe.wordpress.com Ghanaffairs
By Kwame Okoampa-Ahoofe, Jr., PhD
English Department, SUNY-Nassau
Garden City, New York
January 6, 2020
E-mail: [email protected]