Politics Stretched Too Far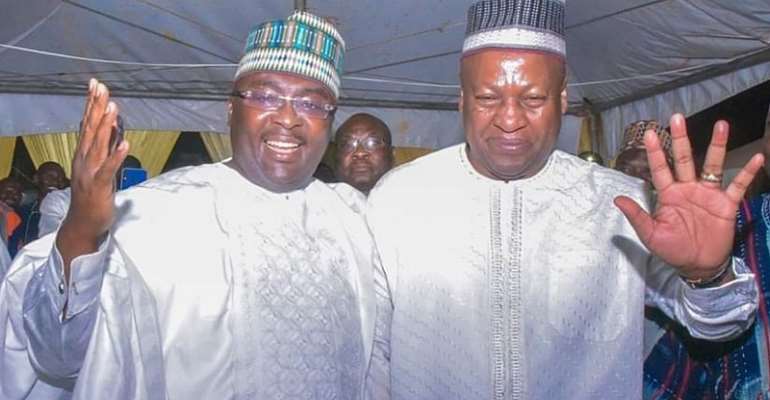 Organisers of programmes where the President or the Vice-President and former Presidents from the other side of the aisle are invited should ensure that conventions are adhered to.
The multifaceted confusion which ensued on Saturday when the former President's minders refused to have their boss and the Vice-President share the same dais and seat during Prophet Mohammed's birthday celebration in Kumasi was unnecessary. Stretching politics beyond its seam as was exhibited was political extremism, the trademark of the opposition National Democratic Congress (NDC).
The paranoia which the NDC has been afflicted with and displayed fully by the former President's minders nearly marred the beauty of what was purely a spiritual affair.
The conduct of persons like Sofo Azoka and others whose political extremism should be checked now lest it extends to incendiary points the inferno from which would be difficult to extinguish.
It sounds crude and primitive to claim as the former President's minders did when they said that the safety of their boss could not be guaranteed should he share the same dais with the Vice-President.
Ghana under President Akufo-Addo can only boast of the enviable pedigree of peace and rule of law unlike the NDC members who flaunt the dark chapters in the country's history when people went missing and many killed in the name of a so-called revolution.
Sofo Azoka who expressed the fear about the safety of the former President is said to have added that the State Protocol which was responsible for managing the dais could not be trusted.
For a man discredited with political violence to be co-opted into the former President entourage to such a programme speaks volumes about the NDC 2020 project.
If the suggestion by this backward thinking person is that the State Protocol can cause the former President to be injured then he would only add to the woes of the NDC flag bearer as he continues to canvass for votes.
Were officials of the State Protocol Department used to harm former Presidents and government officials not on the side of the NDC? An answer which would not come anyway would give us a better perspective of the thinking of such persons as Sofo Azoka and the NDC as a party which believes in demonstrations, taking over of streets and the EC as opposed to turning to the Judiciary.
It is instructive that the disagreements in Kumasi took place even before the arrival of the former President to the location.
Juxtaposing the nasty spectacle against a similar scene when the National Chief Imam's version of a similar occasion saw a disagreement over whether or not the former President should speak or not clearly paints a certain worrying pattern.
Although both the Vice-President and the former President spoke at the venue, the scenes as described in the lead story in this edition should be avoided in future.