Minerals Commission Board Commiserate With La Traditional Council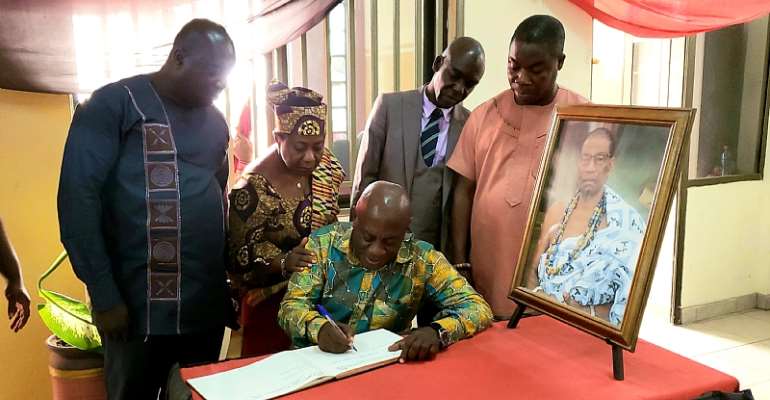 A delegation from the Minerals Commission Board led by Hon. S.K Boafo, the Chairperson has paid a courtesy call on the La Traditional Council Thursday, 13th February at Labadi in Accra.
The visit was to commiserate with the Council following the demise of the Paramount Chief of La, Nii Kpobi Tettey Tsuru (III).
The late La Mantse passed on in January 2019.
The visit was also afforded the Chairman the opportunity to brief the Council on the reforms that had taken place since their assumption of office in 2018.
Hon. S.K Boafo said the contribution of the Council to the nation has been enormous and assured the Commission and the Board will continue to pay homage to their land owners.
Welcoming the delegation, the La Shitikele (Stool Maker), Nii Adjei Koofeh IV, on behalf of the Council expressed his appreciation for the visit and grieving with them.
Hon. S.K Boafo later on signed the book of condolence on behalf of the delegation.
Other members of the delegation were CEO of the Minerals Commission Kwaku Antwi-Bosiako, Hon. Joseph Albert Quam, Mrs. Judy Crayem, Mr. James Akati, Ign. Dr. Adam Tettey Larbie and Mr. Martin Koku Ayisi.
The Board presented a cheque and some items to support the Council towards the funeral of the late La Mantse.