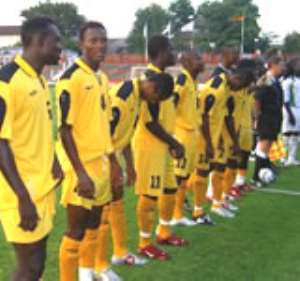 Brentford striker Lloyd Owusu could be on the verge of being involved in the World Cup after receiving a phone call from Ghana manager Ratomir Dujkovic.
Owusu is flying to Germany to join the squad ahead of Wednesday's friendly with German side Stuttgart in Wurzburg.
"I found out when Mr Dujkovic phoned me on Friday and asked me to come and play in Germany," said the 29-year-old.
Owusu is a latecomer to international football, having first represented Ghana last year.
The Slough-born forward added: "I knew there was an inkling with regard to me making the Ghana squad.
"They're due to announce the World Cup squad next month and I'd heard they had been looking at me so it was just a case of keeping on working hard at my football."