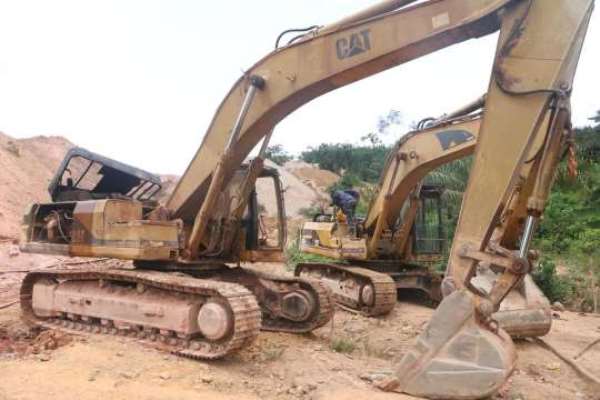 Illegal mining, popularly known as "Galamsey" in Ghana is a practice by people who want to earn 'quick money' as factors such as poverty, limited employment opportunities and lack of job security in gold-rich communities continue to push scores of Ghanaian youth into the trade.
Ghana's new President Akufo-Addo, put his reelection bid on the line, placing a ban on galamsey in March 2017, three months after winning the country's 2016 poll by a landslide.
He said he wanted to protect lands, water bodies and the safety of Ghanaians who are directly affected by illegal mining activities – a brave feat many who came before him failed to do.
Waging this national war attracted a huge backlash from affected miners who threatened to vote against the President in the 2020 elections but the President, in a rebuttal, said he is not perturbed by losing his seat, insisting that he is only doing what is best for the country.
Operation Vanguard, a joint military and police task force was launched to lead the fight.
In 2018, the government lifted the ban for registered small scale miners with license and required training.
But before that, widespread cases of corruption had plagued the government committee leading the fight. Charles Bissue, the man heading that committee was captured on an undercover video taking bales of bribe money to allow unqualified people to mine even when the ban was in force.
Over 500 excavators and gold seized from illegal miners within the period have recently been reported missing under the watch of the committee.
The government now says he would end the committee's work.
Over 500 excavators seized from galamseyers are reportedly missing.
Illegal mining has had a far-reaching negative impact on Ghana.
Widespread mercury contamination across the country has affected many residents. People who perished annually through galamsey and its related activities have been on the increase.
The use of heavy metals and chemicals such as lead, mercury, and cyanide, in the mining process has caused detrimental pollutions on the water bodies, soil, and air.
The widespread corruption that has been reported has gravely affected the galamsey fight causing widespread disaffection for the government's fight causing many miners to return to the site.
The resurgence of intense illegal mining activities has led to a shortage of water in the Sekondi-Takoradi Metropolitan Assembly of the country's Western Region.
A Daily Graphic report shows that the Ghana Water Company Limited (GWCL) in the Region is unable to treat water for residents due to the inability of its intake points at Inchaban, Daboase and Bosomdo to accumulate enough water.
Residents join long queues for hours before getting potable water to drink and for other domestic activities
The acute water shortage has brought financial burdens on families as they need to pay huge sums of money every day to buy sachet water.
The battle against illegal mining is nowhere near being won yet, citizens, including galamseyers who are unwilling to pass through training and acquire the license, are to be part of the battle to keep lands and water bodies safe.