BABANGIDA BEGS OBANSENJO TO DROP THIRD TERM AMBITION.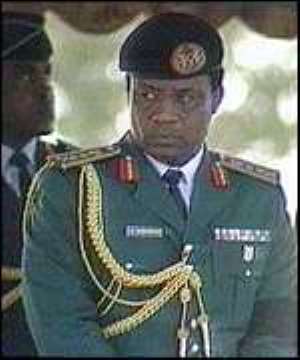 Former President Ibrahim Babangida publicly spoke against the speculated ambition of President Olusegun Obasanjo to have an elongated term in office at the weekend, asking the president to drop it for the sake of Nigeria's stability, if true.
Babangida, who had always parried the issue when asked by reporters, pleaded with President Obasanjo to forget the idea because it was capable of plunging the nation into serious crisis, the end of which no one may predict.
The advice is coming at a time Lagos lawyer, Chief Gani Fawehinmi, warned the President not to be tempted into giving his estranged deputy, Atiku Abubakar, the 'Abacha treatment', in which the latter would be roped into a phantom coup.
Babangida, who was represented by one-time Minister of Information, Chief Alex Akinyele, noted with regret that the issue of third term had negatively affected the image of the country internationally and described the agenda as a demonstration of ingratitude by some political office holders.
The former President Babangida described the third term bid as illegal and constitutional, however, refused to comment on whether he was still a member of the Peoples Democratic Party. On the face-off between Obasanjo and Atiku Abubakar, the former president stated that it had shown a breakdown of confidence between them.
Chief Fawehinmi, in a press statement noted that the polity was on the boil with the battle line drawn by proponents and antagonists of third term, adding that the country was just on the edge of 'the crucible of the absurd,' the kind that "led General Sani Abacha to concoct an imaginary but phantom coup attempt in March 1995 in order to eliminate his 'enemies', who he believed would prevent the elongation of his tenure in office as head of state."
Fawehinmi recalled that among these enemies was Obasanjo "who was found guilty of a coup that he knew nothing about," stressing that, "that was the consequence of Abacha's desperation to maintain himself in office."
The renowned lawyer added: "With what is happening in the country today, I wish to appeal to General Olusegun Obasanjo and his third term executioners not to repeat the history of a phantom coup episode against anti-third term opponents including his Vice President Atiku Abubakar. If he unwittingly does, the consequences will be dire for the continued existence of Nigeria as a nation."
Chief Fawehinmi said any introduction of such tactic would consume the regime, if not the country, while appealing to all parties to allow sanity to reign.