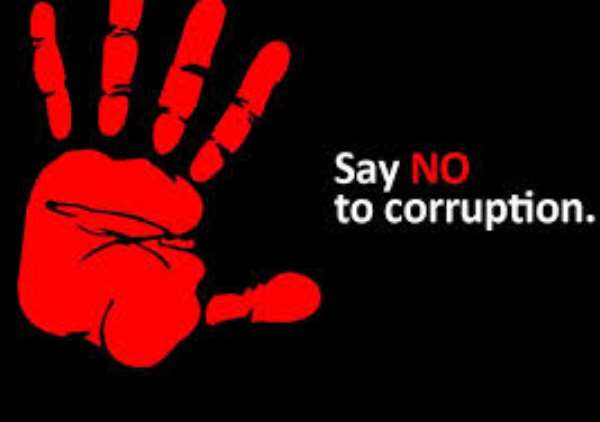 I am with unimaginable sadness and the sadness is more than justified. Of late, I have rendered my pen impotent by not airing my view on the media landscape because of academic intervention. But I am back to resurrect the minds of my gallant readers on the issue of corruption which has been a dominant topic of discussion on both print and electronic media.
Corruption is a national canker that frustrates the social, political and economic development in Africa. Corruption has been a subject of deliberations since time immemorial not just in Ghana but our continental Africa.
The question that always heats my conscience is "Can we actually develop the mentality of minimizing corruption if not eradication"?. In-plane facts, the moment Ghanaian citizens interject his or her daily activity with corruption then it will continue to raise its ugly head in the country.
Corruption as they say it's a ten-letter word which persistently hindering the social, political and economic development of Africa.
The most painful aspect of the matter is that more than half of our leaders have perceived corruption as a nutritious meal that has been taken for body growth and development. And I always lay credence to the saying that " corruption goes with obesity and anti-corruption goes with transparency".
Notwithstanding the fact that national development is the first priority that should be considered as a matter of urgency when dealing with national progress.
Indeed, research has shown that more than half of all citizens think corruption is getting worse in their countries and that their
government is doing a bad job in tackling it. As an individual and a patriotic citizen, are you waiting for the government to fight it alone? The fact that the constitution has mandated government the superior power does not make the citizens be sitting aloof expecting things to be done inadequate manner. It is apparently apparent that corruption has completely retarded progress in Ghana.
Amazingly, it is been claimed that Ghana possessed a larger proportion of philosophers but what are their contributions in the fight against corruption.
In my candid opinion as a young writer, I believed the genesis of corruption is politics, where the valuable access of a country are entrusted with people who have no modicum of morality. Indeed, it is pertinent as a country to also consider morality when the mantle of leadership is given to people. There is no deniable the fact that the majority also feel optimistic that they, as citizens, can make a difference in the fight against corruption. I will portray selfishness if I do not recommend ordinary individuals for their efforts in the fight against the never-ending canker.
As a matter of observation, Ghana as a country has witnessed several cases of corruption in the last five years which I will like to direct your attention to. The list of those cases are as follows: The SSNIT software scandal, NHIS scandal, GYEEDA saga, BOST contaminated fuel scandal, GFA 2018 scandal, Ghana Judiciary scandal, Ghana EC scandal, Tema port scandal and the recent brouhaha that is Airbus scandal and Missing excavators which are still the subject of discussion in the media landscape.
I will conclusively pose this question to these anti-corruption agencies in Ghana which consist of The Centre for Democratic Development (CDD), IMANI Ghana, Transparency International, Child's Right International, Occupy Ghana,
Ghana Anti-Corruption Coalition (GACC) and what have you. What necessary measures are they putting in place to ensure that corruption in Ghana is minimized.
In the year 2019, Ghana was named the second most corrupt country in Africa on the Corruption Perception Index. In the same year, a report by the Transparency International (TI) has asserted that Ghana has been rated as the second most corrupt country in Africa, followed by Nigeria, With South Africa perceived as the most corrupt nation on the continent of Africa.
These kinds of reportage have the propensity to ruin our hard-won reputation as African continent. We are therefore appealing to the leaders of our various countries to lead with transparency for the betterment of our nations.
Abu Hafiz
Newly Trained Teacher
National Service Personnel.