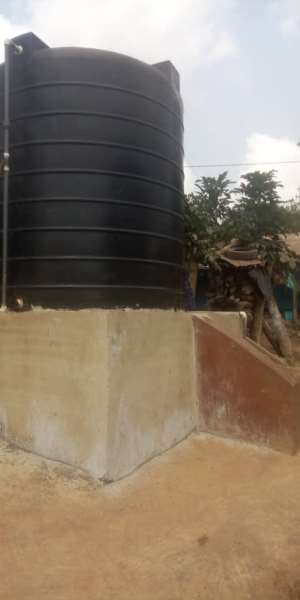 The assertion that water is life and the need to provide potable drinking water for communities within Amenfi Central and its environs for domestic and industrial use has been one of the utmost priorities of the Amenfi Central District.
The Amenfi Central District Assembly headed by Hon. Patrick Hockson Amponteng DCE/ Parliamentary candidate for Wassa Amenfi Central has constructed a mechanize borehole at Achichire to help provide good, safe and potable drinking water for all the inhabitants in the area.
An extension of this water project had been linked to four suburbs within the same Community with the provision of polytanks to store water for distribution.
In a visit to the Achichire Community, Hon.Patrick Hockson Amponteng urged the entire community to adhere to the maintenance culture for long lasting usage.
"I urge you to make very good use of the project and follow the maintenance guide attached for the facility to last long to serve generations," he said.
The aspiring Member of Parliament also asked the community to report any shortfalls as and when the need be.
The members of the community extended their appreciation for the good works Hon.DCE is doing and asked for long life and assured him of their support and victory in 2020 December polls.
Other communities such as Wassa Anyinabrim and Dwirigum among others have also benefited from water projects being carried out in the Wassa Amenfi Central District.