990 Grammes Of Cocaine Hidden In Hairdo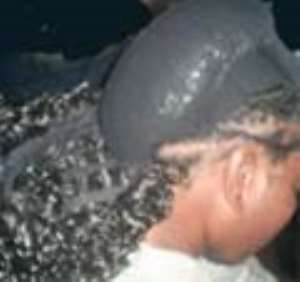 Two persons, including a 59-year-old woman who hid 990 grammes of cocaine in her hairdo to outwit security, have been arrested. The suspects, Dorcas Addai and Maiga Ibrahima Mahamadou, were arrested while going through departure formalities enroute to The Netherlands and Spain respectively.
A source at the Narcotics Control Board (NACOB) told the Daily Graphic that Dorcas was arrested by security officials of the Ghana Civil Aviation Authority (GCAA) and handed over to officials of NACOB at the airport for further investigations.
It said after she had been handed over to NACOB, Dorcas allegedly described the incident as a mishap and pleaded with the officials to throw the drugs away and set her free. The source said Dorcas, who claimed she had been living in Holland for the past 20 years, arrived in the country three weeks ago for a funeral.
It said before she arrived, Dorcas claimed she was having financial problems and was asked by someone she identified only as Naana in Amsterdam to contact a lady in Kumasi, whose name was mentioned as Maame, for assistance. It said Dorcas claimed that Maame promised to give her 3,000 euros if she was able to carry the cocaine to Amsterdam, which she obliged.
According to the source, Dorcas claimed she met Maame at a hotel in Kumasi near the Baba Yara Sports Stadium where the drugs were hidden in her plaited hair and covered with a wig. It said when her travel documents were searched, it was detected that Dorcas was travelling on both Ghanaian and Dutch passports, which were both issued in September last year in Accra.
With regard to Mahamadou, a Malian, the source said the suspect expelled 45 thumb-sized pellets of cocaine after his arrest. It said the suspect claimed he bought the drug for 4,500 euros in Lome, Togo, and he was sending it to Spain when he was arrested at the Kotoka International Airport. Both suspects, the source said, were still in custody pending further investigations.