International Community has a hand in conflicts in Africa- JJ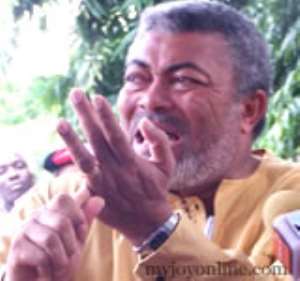 The Former President Jerry Rawlings has criticized the international community for not doing enough to commit resources to help bring an end to conflict in Africa.
He says the international community never exposes the underhanded way in which they affect and influence things within the continent.
Mr Rawlings who was speaking at symposium of former heads of states in South Africa said there is a 'hidden hand' behind the number of these conflicts.
The symposium is to discuss, among other things, the media coverage of the events and conflicts on the continent by international media.
According to the former Ghanaian president African leaders are faced with the challenges of addressing the root causes of conflicts that undermine the development of accountable and inclusive democratic rule.
He said however that the unevenness in which the international community involves itself in conflicts in Africa as compared to European countries is casting doubts about their seriousness to assist.
According to Mr Rawlings this is demonstrated by the way in which they commit themselves in these countries by providing necessary logistics to contain and bring things under control.
In Darfur, the African Union (AU) has deployed 7 000 troops but they lack adequate logistical support.
This has led to the AU agreeing to transfer peacekeeping duties to a UN force, giving an impression picture that they are unable to bring the situation under control.