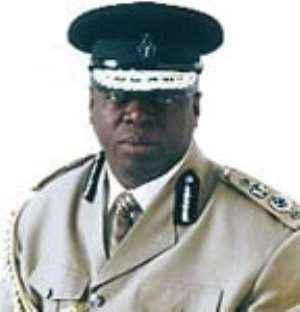 The Inspector General of Police (IGP) Patrick Acheampong has directed the Criminal Investigation Department (CID) to investigate the circumstances that led to the shooting of two women and two other occupants of a Tico taxi cab at Dansoman on Friday morning.
A Police patrol team is reported to have shot and killed four people suspected to be armed robbers when the taxi in which the people were traveling failed to stop as the Police flagged them to stop.
According to a statement issued in Accra, a policeman in mufti reported to the Dansoman Police that six persons in a Tico taxi cab with registration number GR 2995 X attacked him at about 3am at gun point.
The policeman reported that he was robbed of two hundred thousand cedis and a Nokia mobile phone.
According to the statement, one of the occupants of the taxi cab opened fire upon seeing the Police thus prompting the Police to return fire.
Four persons were found dead after the shoot-out, two of whom were women.
According to the statement, one of the robbers has been identified as Mallam Issa whom the Police say is on their wanted list for robbery.
The statement however says investigations are ongoing to ascertain the identity and role of the women who dies in the shoot-out.
But some residents of Dansoman, a suburb of Accra, who told JOYNEWS that the victims were not armed robbers.
Eyewitnesses say the four were rather in pursuit of a group of armed robbers who had snatched the bag of one of the women who was a trader.
Police say both incidents are still under investigation and request that any member of the public with information on the two vehicles and their owners as well as the occupants of the taxi cabs should contact the Police CID headquarters.
Meanwhile, a relative of the two women who were shot in the incident, Francis Dadzie of Ghana Advertising Association said the two women were traders who were on their way to Togo.
He told JOY News that the women are not in anyway linked to armed robbery.
The bodies of the four have been deposited at the Police Hospital Mortuary for autopsy.