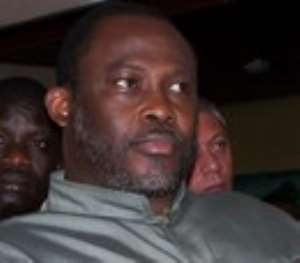 The Ghana-born chief Executive Officer os the Commonwealth Telecommunications Orgnaisations (CTO), Dr. Ekwow Spio-Garbrah has refuted allegations that he has struck a deal with the Rawlingses to make former first lady, Nana Konadu Agyemang his running mate at the 2008 polls in order to get their backing as flagbearer for the National Democratic Congress (NDC).
"I do not know where this thing comes from but it's certainly not true", Spio-Garbrah said in an interview with this reporter in his decent London office recently. He however suggested that the speculation could be the result of a recent chanced meeting with the founder of the NDC, Mr. Rawlings and his wife, at the plush Golden Tulip hotel.
While acknowledging what he sees as the extreme importance of the Rawlingses to the electoral chances of the NDC, Spio-Garbrah said the former first family and him have never discussed that issue. He noted that Mrs. Rawlings is a fiery achiever capable of running for presidency in her own right, and wondered why he would have to deal with her for her potential to be recognized.. "She's a brilliant independent-minded woman on her own", he said, without confirming his own personal interest in the race, adding that there was no iota of truth in the allegations of a deal by him and anybody.
Meanwhile despite the series of criticism levelled against Spio-Garbrah by critics within the NDC, the party has bought the notion of conducting a proper scientific research to establish the reasons behind the loss of the thrice-defeated NDC flagbearer, Professor John Evans Atta