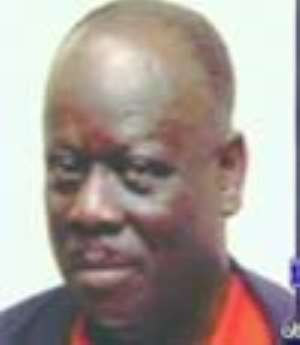 Police are investigating the murder of a Ghanaian livery cab driver on Staten
Island Wednesday. Kwame Appiagyei was found fatally shot, by a single bullet to the back of the head just after 3:00 a.m., in his livery car outside an apartment building in Stapleton.
The livery cab crashed though a fence and hit the side of a building after he was shot. Investigators believe Appiagyei, a veteran cab driver who worked as an independent contractor, was robbed. Colleagues say Appiagyei often picked up fares at the ferry terminal. It appears he picked up two passengers who got off the 3:00 a.m. boat. Sources say one of them announced a robbery as he was being dropped off on
Vanderbilt Avenue
.

Police in Staten Island are hunting for the triggerman. The shooting happened at the intersection of Vanderbilt and
Tompkins Avenue
in the Clifton section. Police say they are questioning someone who claims to have been a passenger in the car when the shooting occurred.

He was covered in blood when he was taken to the 120th Precinct. He claims he was robbed along with the driver before the suspect shot the driver. It is unclear however whether this person is indeed a victim and a witness or in some way possibly a suspect. We also understand that there was a camera inside the cab, but it is unclear whether or not that is operational.

Throughout the morning friends and family, even former passengers have been coming to the scene. They are absolutely stunned and saddened by the murder of a fixture in this community.

Grieving loved ones gathered at Appiagyei's home on Wednesday evening. "He is all that we have. In this world, if you take God, my husband is second," said Betty Appeigyei, the victim's wife. "I have older daughters, and he would make sure they got home," said Dow Kevin Buford, the victim's neighbor and friend. "So this is the type of person that you want to be your neighbor. He's a good community man, a church man, and it's a terrible, terrible loss for the entire community."

Seth Ametefe, Victim's Friend: "It's a sad story. It's unfair." Kofi Brown, Victim's Nephew: "He is the only person supporting the family. This is my real concern." Victim's Friend: "Whoever did this should come forward, should just come forward for conviction!" A native of Ghana, the 62-year-old driver leaves behind a wife and several children. Relatives say he lived on Staten Island and drove cabs for 18 years.