Gov't Has No Plans To Shutdown The Internet---Hon. Ursula Assures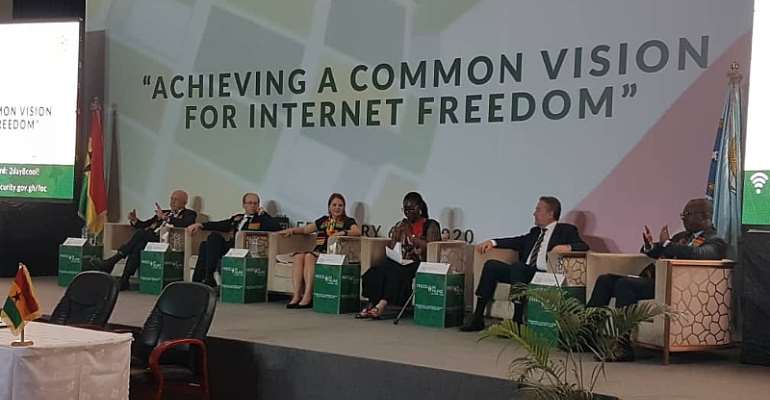 The Minister of Communications Mrs. Ursula Owusu Ekuful, on Friday, debunked allegations making rounds in some media networks that the internet will shut down in Ghana.
The target of the alleged shutdown was to include all social media platforms such as Facebook, Twitter, Instagram, and others.
The Minister has stated categorically that Internet shutdown is not an option for Ghana. She is, therefore, urging all well-meaning Ghanaians to disregard the report and treat it as fake news, which only existed in the flimsy imagination of the person making the allegation.
Deputy Minister of Communications, George Andah, said this in a speech read on behalf of the Minister of Communication Mrs. Ursula Owusu Ekuful, at the 8th Annual Freedom Online Conference at Kofi Annan International Peacekeeping Training Center (KAIPTC) in Accra, pointed that the issue of Internet shutdown was discussed intensively as a problem with a rising frequency which is taking place in many countries and a range of ideas from different stakeholders on how to address.
The Ministry is working hard to put in good measures and not shutting down the networking sites.
In the context of content moderation online, The Minister explained that the drafting of a new Cyber Security Bill by the Government of Ghana which is expected to address gaps in the legal framework.
However, she said the government's commitment to human rights online, albeit with many participants raising concerns that similar legislation in other states has led to restrictions on freedom of expression.
At the 8th Annual Freedom Online Conference, there was also a child online protection session which addressed emerging issues such as online grooming and live streaming and the risks of legitimate material that manager being removed from the internet by automated processes through organizations.
The three-day conference addressed some of the issues of internet freedom that plague. The participants also developed significant pathways aimed at ensuring a rights-respecting framework for internet freedom.
Mrs. Ursula Owusu Ekuful, the Minister of Communications reiterated her profound gratitude to all FOC governments, the Support Unit, the friends of the Chair as well as the FOC Advisory Network and the staff of the National Cyber Security Center for the good work in organizing the event.