Dr. Adutwum Urges Constituents To Rally Behind Government To Address Their Developmental Needs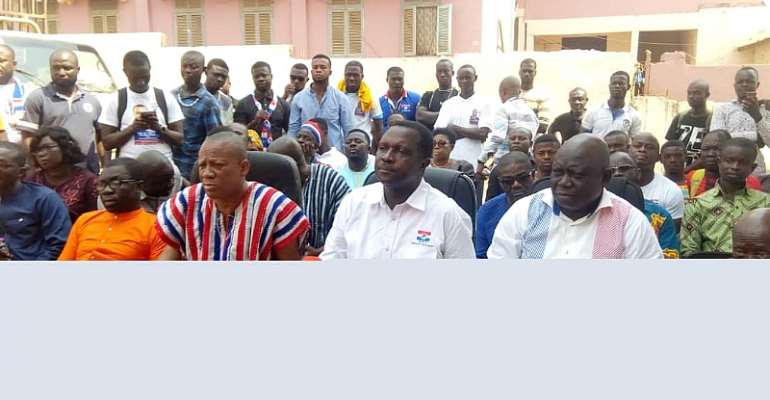 Dr. Yaw Osei Adutwum, the Member of Parliament for Bosomtwe and the Deputy Minister for Education picked his nomination form today amidst jubilation at the constituency headquarters at Kuntenase.
According to the deputy minister, he has laid a solid foundation to accelerate the development of the constituency in his first term and all that is required to actualize the full developmental agenda for the constituents is the patience and support of the people.
Addressing the media at Jachie after picking a nomination form to contest the upcoming parliamentary primaries, Dr. Adutwum enumerated a number of projects that have been executed since he became the Member of Parliament.
Flanked by some constituency executives, the Deputy Education Minister said Bosomtwe has received its fair share of the national cake under the leadership of Nana Addo Dankwa Akuffo-Addo.
He mentioned several road and school projects that are at various stages of completion and gave the assurance that most of them would be completed by the middle of his second term.
He said the New Patriotic Party (NPP) government is people-centered and would continue to pursue programmes and policies that would generally impact the lives of Ghanaians.
The free Senior High School Policy, he noted, is a testimony of a government that prioritizes the well-being of the people, adding that the policy has benefited virtually every household in Ghana.
Dr. Adutwum who is one of the few NPP MPs going unopposed in the upcoming parliamentary primaries in the region, underlined the need for the party to approach the 2020 election with a united front for a resounding victory.
He thanked members of the party in the constituency for their unflinching support and reminded them of the need to work hard to surmount the task ahead.
Mr. Aikins Adu-Poku, the Constituency Chairman said, Dr. Adutwum is undoubtedly, the best candidate the party could present, given the good job he has done in just three years.
He said the MP has effectively represented the people of Bosomtwe in both government and parliament, therefore, he deserves another chance to bring more development to the area.
The chairman therefore implored members of the party to join forces to secure not less than 90 per cent of the votes for both the Member of Parliament and the President in the December polls.