Local Govt Minister Kick Against Repeal Of PM Election Law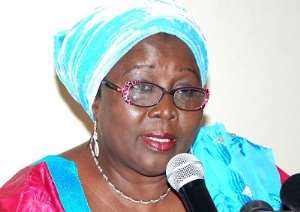 The Local Government and Rural Development Minister, Hajia Alima Mahama has shot down an argument for the repeal of Clause 2 of Article 244 of the constitution, saying the provision is still relevant and must be maintained.
This followed a suggestion by Ibrahim Sebeyam, Presiding Member (PM) for the West Mamprusi Municipal Assembly in the North East region during the confirmation ceremony for the newly appointed Municipal Chief Executive (MCE) on Tuesday.
He called for the review of the clause which governs the election of PM for district assemblies in the country.
He argued that the clause, which says PMs shall be elected by at least two-thirds majority of assembly members, has become irrelevant, costly and retrogressive, as many assemblies are now increasingly finding it difficult to elect presiding members.
"For instance in 2015, one out of 22 districts in the Western Region – Tarkwa Nsuem, was unable to elect a PM, likewise the Tema Metropolitan Assembly, Ga West and West Mamprusi similarly suffered the same fate," he stated.
"Similarly in 2020, six districts in the Upper West Region failed to elect PMs. Again, Bole, West Akyem, Chereponi and Bawku East Assemblies also failed to do so," he said.
He, therefore, suggested that where a two-thirds majority is not attained, assemblies should be allowed to choose their PM with a simple majority.
"When implemented, it will reduce the cost incurred on the assembly to organise meetings and elect PMs after several attempts, eliminate time wastage, ensure institutional memory and steer development," he argued.
The Minister for Local Government and Rural Development, Hajia Alima Mahama, who was present at the same event rejected the suggestion.
"I do not think I agree with you," the minister responded. "I think the PM is a very important person and it must be established that honourable assembly members want that person to be a Presiding Member, so the two-thirds majority is important," she argued.
However, she conceded that "it's a problem in electing presiding members".
-myjoyonline.com