Green Fortland Foundation Sensitise Ghanaians About Plastic Waste Management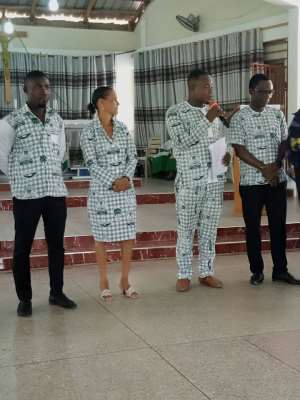 Some Ghanaians in Cape Coast and its environs have been sensitised about plastic waste management by Green Fortland Foundation.
Green Fortland Foundation is a rising local Non-Governmental Organization (NGO) basically into Green Campaign.
The motivation for this organization is to keep cities and towns into resilience via intensive Environmental Education and Research.
This foundation extended its operations to the Central Regional Capital over the weekend. Per their program, this happened to be their first outreach program in the year 2020.
They visited many schools, churches, palaces in Elmina and cape coast, presenting to the pupils, congregants and chiefs, sustainable aquaculture and plastic waste management.
In all the presentations, they admonished listeners on immune diseases emerging as a result of carcinogen formation in the oceans by virtue of plastic wastes increase in the sea.
Juliana Ashka Kini, a branch manageress of the foundation highlighted to the congregants of the St. Theresa Anglican Church in Cape Coast that; Christians are to portray the sense of loveliness and this time we must take not of the Physical Environment.
This is because she emphasized, the friend that humanity needs on earth to live healthier is the Environment.
She listed the trees to give us rich oxygen, the sea to feed us with seafoods and also recreation, the land we build on etc…..however, she said human attitudes are impeding the sustainability of the environment causing us to get sick and many times often lose our lives.
Mr. Kweku Atta Kakra, one of the research field technicians, highlighted that plastics are not environmentally friendly and each of us has a responsibility to limit the usage and replace paper bags to reduce the menace plastic wastes are seriously causing the environment of mother ghana.
"Flood thresholds are increasing, cancerous diseases are increasing, and nuisance on land are becoming rampant all because of plastic waste increase", he said.
Research by the team indicates that plant growth in the sea have reduced magnificently due to high plastic deposits in the sea.
"This is bad news to environmental sustainability because it signals biodiversity decline and temperature in the sea increase resulting in the chances of carcinogens, a disastrous chemical likely formed", he concluded.