Oti Region: Fire Service Moves To Clamp Down On Fire Outbreaks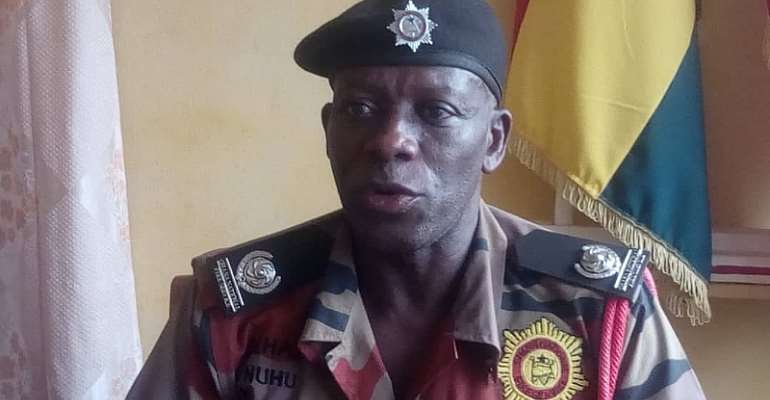 Oti Regional fire officer of the Ghana National fire service (GNFS) D.O 1 Alhaji Nuhu Gibril said his men are combat-ready 24/7 to respond to firebreaks and related emergencies during this harmattan season.
He said the forefront of the bushfires was caused through the activities of uncontrolled bush burning, honey harvesters, cigarette smokers, palm wine tappers, game hunters and other unacceptable practices.
D.O 1 Alhaji Nuhu Gibril said as part of effort to intensify Fire Safety Education, personnel of the Service have been visiting the various churches, Schools, Communities and other organizations to create more awareness for the public to understand the need not to burn bush indiscriminately.
He sounded a word of caution to bush burners as he admonished all to help in the prevention of fire outbreak in order to save lives and properties including the green vegetation.
He bemoaned that most fire outbreaks which occur in the country could have been prevented if not for the carelessness and failure of a section of the public to adhere to simple fire prevention and other precautionary measures.
According to Alhaji Nuhu Gibril, the fire situation in the region is not beyond control but being monitored closely.
Giving statistics of fire outbreak situation in the Oti Region, the Regional Fire Officer stated that his outfit recorded a 30% reduction in fire cases in 2017.
In 2018, there was an increment of 7%. 2019 recorded a 10% reduction in fire outbreak.
He disclosed that, there were 41 reported fire cases in the Oti region from March 2019 to December 2019
Out of the total cases recorded, 16 were domestic fires, 13 bush fires, 8 commercial, 3 industrial and 1 vehicular fire.
In all 1 casualty was recorded. 20 fire cases have been reported and dealt with by the Service since January 2020.
The Regional Fire Officer, stated that going by the records of the Region, Bush and Domestic fires are the leading outbreaks and as a result, education has been intensified.
He added that other interventions that the Command is implementing include Fire Risk Assessment and Certification, Fire Safety training and Bushfire Prevention Strategies.
He is therefore appealing to all stakeholders and the general public to cooperate and support the command for a fire-free environment.
Even though the Service believes in attitudinal change by the public through the aforementioned proactive interventions, offenders of undesired fires will be dealt with according to law.
He revealed that with the resources available all the 8 fire stations in the Region are functional, thus combat-ready
He, however, entreated all citizens especially farmers, palm wine tappers, charcoal burners, cigarette smokers, fishmongers, etc. to take fire safety precautions very seriously to prevent or minimise fire outbreaks and it's destructive tendencies in the region.