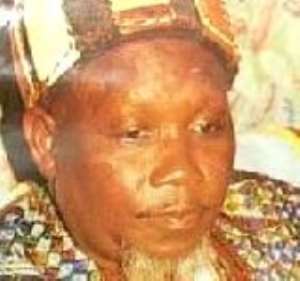 The efforts of the Committee of Eminent Chiefs, headed by the Asantehene Otumfuo Osei Tutu II, to bring peace and unity between the Andanis and Abudus have started yielding fruits.

In accordance with the roadmap to peace in Dagbon, the Abudus on Tuesday presented burial kits, comprising a bull, a gown, rings and a red hat to the Ya-Na Yakubu Andani's family as part of their customary rites towards the burial of the King.
The Bamvim Lana, Mahama Abdulai who represented the Nanton, Sule Alhassan on behalf of the Abudu Royal Family presented the burial kits to Mba Dugu, leader of the council of elders of the Ya-Na at the Gbewaa Palace.
The Nanton-Na was said to be sick and could not attend the burial ceremony.
The Mion Lana, Ziblim Abdulai, also in accordance with Dagbon tradition, presented a lion, tiger and cow skins, a gown and unspecified amount of money on his own behalf to family.
The celebration went with musketry display, drumming and singing of dirges, amidst dancing. The 50 musketeers formed a cycle and went round three times and started firing into the ground. When this was over, the Bamvim Lana, the Imam and his assistant and three musketeers went into the royal mausoleum to pay their last respect to the late King. At the mausoleum, the musketeers fired a three-gun solute in honour of the King.
The Mion Lana also took his turn and moved to the mausoleum with some elders and three musketeers to show his final respect to the King. Again, a three-gun solute was fired in honour of the King. Before the Abudus arrived at the Palace, talking drumbeaters drummed to narrate to them all that took place during and after the burial of the Ya-Na.
At the Palace, Mba -Dugu registered his protest about the absence of the Nanton-Na, saying: "tradition demands that the Nanton-Na must come by himself to pay homage to the late King and not through a representative".
The Mion Lana, Ziblim Abdulai, Demon-Na, Andani Bukari, Princess (Toonjing) Kpatua Hajia Adamu Abdulai, Gumpali Lana, Shey Alhassan and the Bamvim Lana, Mahama Abdulai were some of the chiefs that graced the occasion Later in an interview with the GNA, the Secretary to the Abudu Royal Family, Mr. Alhassan Iddrisu described the occasion as the first opportunity for the two families to come together and carry out customary rites and to reconcile.
"This is a practical sign of hope for a better future. It will usher the two families into consultation and collaboration". Mr. Iddrisu attributed some of the failure in the peace process to lack of information flow between the two cousins, saying: " the notification of the Abudu Chiefs about the burial of the King was belated".
The occasion was peaceful and could inspire the two cousins to unity in harmony. Business in Yendi was briskly going on among traders, especially women at the central commercial area in the township.