Report On Election Of Berekum East Municipal Assembly PM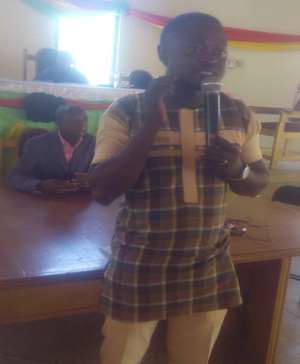 The Berekum East Municipal Assembly has re-elected its former Presiding Member, Mr. Joseph Baffour Awuah following a failed attempt during the inauguration of the Assembly.
In his welcome address, the Berekum East Municipal Co-ordinating Director Mr. I.B Ankomah appealed to the Assembly members to ensure that a Presiding member was elected to pave way for the proper functioning of the Assembly.
He added that the role of the Presiding Member was very critical to the running of the Assembly that it cannot do without a Presiding Member.
The successful election of the Presiding Member came on the wheels of the stepping down of one of the contestants Hajia Fati Abubakar which paved way for Mr. Joseph Baffour Awuah to go unopposed.
After the counting of votes, Mr. Joseph Baffour Awuah polled thirty-seven votes representing 92.5% with one spoilt ballot.
Earlier in an address, the Municipal Chief Executive for Berekum East, Mr. Kofi Adjei made a passionate appeal to Assembly Members to do their best to elect a presiding member to ensure the smooth running of the Assembly's business.
He also called on newly elected Assembly members to call on the old members to share the experience with them so that they can effectively deliver on their mandate. Mr. Kofi Adjei called for unity of purpose to ensure the progressive development of the Municipality.
Addressing the Assembly, the Presiding Member, Mr. Joseph Baffour Awuah express gratitude to the Assembly Members for the confidence reposed in him and pledged to work hard in the interest of the Assembly.