How Do We End The Power And Influence Of The NPP's Verbally-Aggressive Bernard Antwi-Boasiakos?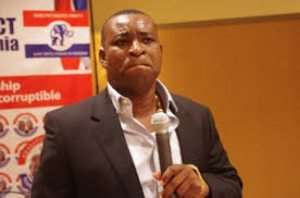 Hon. Fuseini Sbaabe, regarding the local political fallout from the Airbus scandal, may I humbly suggest that all of you await the US Department of Justice's investigations and report from same? As far as some of us are concerned, the only interesting insight into all the equalisation-propaganda-battles now going on, is how frightened of losing power, many of the big guns of the New Patriotic Party (NPP) clearly are. Very interesting that.
Massa, your party must just make sure that all the processes leading up to the presidential and parliamentary elections are livestreamed to the world - so that that uncouth thug, Bernard Antwi-Boasiako, does not use the NPP's private militias, the Delta Force and Invincible Force that have been infiltrated into the national security apparatus, to prevent people from being registered, if a new voters register is compiled.
Ditto stop him from repeating nationwide, on election day, the prevention of some voters from casting their votes, by replicating the events that occurred in the vicinity of the Ayawaso West Wougon Presbyterian Church School polling station, on the day the by-election to select the successor to the late Hon. Kyremateng Agyarko, was held last year.
If you can checkmate that semi-literate buffoon and boastful idiot, Bernard Antwi-Boasiako, and the ace-hypocrite and gung-ho-plutocrat, Bryan Acheampong, from using the thugs they have packed the national security apparatus with, for all the above, by livestreaming each stage of the process to the world, ditto events at all the polling stations across Ghana, the election results, whatever they are, will actually reflect the will of the masses of the longsuffering Ghanaian people.
By allowing a thug with a criminal past, like Bernard Antwi-Boasiako, to become powerful and influential in the NPP, so as to enable him get away with a criminal past, the party's well-meaning and honest members have forfeited the sympathies and respect some of us had for them.
And, in our view, they have also lost the moral right to be voted back into power again, by standing idly by, and watching Bernard Antwi-Boasiako singlehandedly empower those destroying our natural heritage, through illegal gold mining, illegal logging and illegal sandwinning, and the poisoning of soils, streams, rivers, groundwater and other water bodies, across vast swathes of the Ghanaian countryside. The wretched bastard. We must perforce end the power and influence of the Bernard Antwi-Boasiakos in our nation's politics - if decency is to ever return to public life in our homeland Ghana. Cool.