The Call For The Arrest Of Rev. Owusu Bempah By The GJA: Who Cautions The Erring Journalist?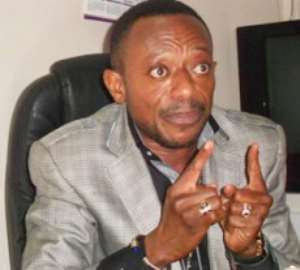 In every Democratic country, one cardinal principle that must be upheld at all times by all persons at any given time is the rule of law and not the rule of men. The law ought to be applicable to all persons including journalists if they're found to have breached any law. Recently some journalists have been in the media for various reasons and it appears our profession is under attack.
A journalist is"a person who writes news stories or articles for a newspaper or magazine or broadcasts them on radio or television: a freelance political journalist. Cambridge dictionary. Whilst political journalism " is a broad branch of journalism that includes coverage of all aspects of politics and political science, although the term usually refers specifically to coverage of civil governments and political power. Wikipedia
More so political journalism could also "constitutes one of the most prominent domains of journalism, and is essential for the functioning of democracy. Ideally, political journalism should function as an information provider, watchdog, and forum for political discussions, thereby helping citizens understand political matters and help prevent abuses of power". www.oxfordre.com.
Ideally even if journalist decide to become political journalist, what they ought to do has been cut out for them. Thus provide information, serve as watchdog and provide a forum for political discussions in order to help the citizenry to understand political matters and help prevent abuse of power? Is that what is being done in Ghana now? Are we serving as the watchdog? Are we helping the citizenry to understand political matters in order to prevent abuse of power? That I think we're faily doing well but much needs to be desired.
Because Journalist exist and need a body to fight our course, hence we've an association called the Ghana Journalist Association. Associations are there not only for the protection of the rights of members but also to ensure harmonious working relationship between their members and the employers. No can begrudge the GJA for calling for the arrest of of Rev Owusu Bempah because he had gone to the premises of Radio XYZ looking for Salifu Masse aka Mugabe. The GJA sees it as an attack on media freedom hence tbier action. Is media freedom synonymous to insults and an attack on someone's integrity?
From the video I've watched, Rev Bempah went to radio XYZ in the company of about 4 men which is reported by the officials of radio XYZ that some of them were armed. Rev Bempah took that action apparently because, a presenter of the station has runed him down with unbridled insults on his person and impugned his integrity as a prophet and a man of God.
In as much as I don't agree with the so called attack on radio XYZ by the osofo, does any journalist have the right to insult others just because he disagrees with some pronouncements they've made? If a presenter recklessly insults others just because he is on radio, what does the management of the station do? What does the GJA also do in such a circumstance? Should associations only be seen to be speaking for their members when they've erred or not? Why shouldn't the GJA caution Mugabe Maaase? Why didn't management also sanction him?
Rev Isaac Owusu Bempah is a popular prophet in Ghana. Hate him or love him. If he has said anything anyone find untoward, should that warrant a barrage of insults by a journalist on his person? Where does that fit in in our profession? I respectfully disagree with Rev Bempah's actions because this XYZ example makes it twice in recent times which isn't too good for a man of God of his stature.
The actions of the GJA in this particular case is hypocritical in my humble view. Is the GJA president saying he didn't hear what Salifu Masse said about Rev. Owusu Bempah? And what did the body do in this regard? Or is the GJA saying that journalist are above board? I know Mr. Money personally and knows he wouldn't sanction such things from Mugabe, so why?
Rev Owusu Bempah must take things easy and on my respectful view, shouldn't be seen to be an anti journalist and to be seen to be attacking the premises of median houses because he's proked. If he finds anything untoward with Mugabe's commentary, there are laid down legal processes he can seek redress from. Assuming as he went to radio XYZ, he had met Salifu Maase, what would have happened that day between him, his accomplices and that of the employees of the station?
We all need to be careful and respect one another after all we've one country called Ghana? Attack and counter on one another wouldn't help anyone.