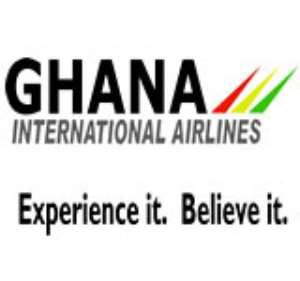 The national carrier, Ghana International Airlines (GIA) has run into a debt of some $4million just within its 17 months of operation.
According to the Independent newspaper, apart from the frightening debt portfolio it stumbled on some interesting details which bother on everything that went wrong with the defunct national carrier, Ghana Airways.
The Brian Presbury- led GIA management which can make some previous management that helped to run Ghana Airways to the ground green with envy include the appointment of Brian Presbury as the Chief Executive Officer (CEO) of GIA who until that appointment was acting Chief Financial Officer without reference to the board and the abuse of travel by personnel for the purposes of per diem.
Some top management personnel have formed many companies which have been used as suppliers or service providers to the airline which is currently under investigation.
The companies under investigations are Unger Oakes Corporation, Mary Greenslade Information Systems, AOS or AOA Services, Elex Human Resources and Argent Resources among others.
Another issue which is contentious is the retention of unqualified workforce in some cases, girlfriends of some people in the top hierarchy of the airline.
According to the Independent newspaper another issue under investigation is the circumstances that forced certain qualified and technically-minded staff to leave the airline in situations that have been described as interesting.
Those who started with the company but had to leave the investigations unearthed are former CEO J.Ralph Atkin, Vice President in charge of Customer Services George Luftkin, Vice President in charge of operations, Albert Vitale, Airport Manager, Kip Luftkin and Airport Manager Tanya Hammond.
The Independent's investigations indicate that another issue under investigation is whether or not the Brian Presbury management contracted a company Astria Aviation to inspect foreign airports for future operations at the cost of $40,000 a day.
The age of the retention of Ghanaian pilots is also another contentious issue between government and the Brian Presbury-led management.
The purchase of several vehicles by the GIA management including two Rexton SUVs and Mercedes Benz is also another grey area which is currently under investigation.
The paper has also learnt that an attempt was made to take away Ghana International Airline USA's 30 per cent equity but this was effectively blocked by the government and prevented them from making it happen.
According to the paper, the 30 per cent equity amounted to a sum of $2.1 million at the time the investment was made in the Ghana International Airline by its minority shareholders, the GIA of USA.
The training of over a hundred flight attendants who are being paid while the airline has only one aircraft that flies from Accra to Gatwick and back to Accra is also under investigation.