Ghana Killing! Ghana Killing! A Ghanaian Asylum Seeker Shouts For Mercy At Brazil Airport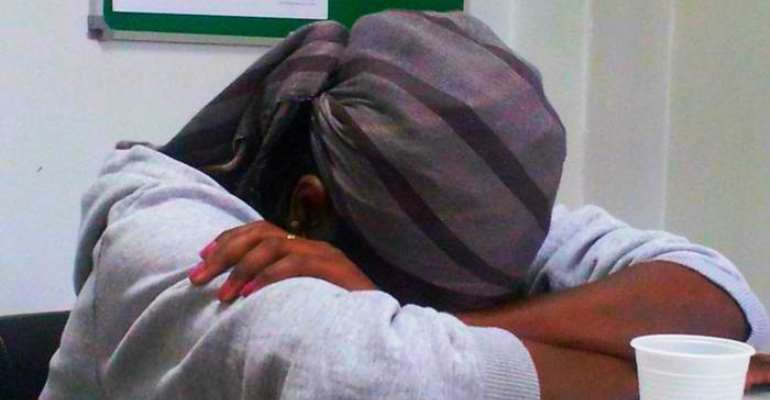 Ghanaians, in general, like to travel. This is one of the reasons people often make a joke that even in Greenland, where the Eskimos are, it is very likely that you will find a Ghanaian living there. Even in those years when Ghana's economy was at its best, Ghanaians still travelled, let alone today's harsh economy the country is facing.
However, under Akufo Addo's government, since the NDC lost the elections in 2016, Ghanaians have left the country in large numbers more than what was recorded under the previous administration, in search of greener pastures.
Poor leadership and inefficiency in Akufo Addo's government have brought unprecedented hardships and economic disaster in the country, forcing thousands of Ghanaians, including adults and the youth, to request political asylum in eastern and western Europe, North America or South America.
The Brazilian police or the immigration force at the Rio de Janeiro Airport, are known for their intelligence in dismantling sophisticated drug trafficking networks around the world.
Watching your body language, backed by sniffing dogs, the Brazilian authorities have intercepted thousands of kilograms of cocaine from entering into the country. It doesn't matter where the drug is hidden, the authorities will bring it out to you face to face.
As usual, while busy, what they weren't expecting dramatically unfolded. As soon as they landed at the airport of Rio de Janeiro, about six Ghanaians, including women, faked dizziness and traumatic symptoms, spreading their bodies across the airport floor, with one thing in mind, the request for political asylum.
To be far from home without any intention to return to Ghana, some of them burst into tears. One of them who immediately became a 'cripple' was assisted with a wheelchair. While being taken away, the man keeps shouting repeatedly, "Ghana killing! Ghana killing, as he demonstrates with his hand around his throat.
The situation was both hysterical and emotional. It's even more disturbing to watch such a scene, involving people from your own country, a rich country like Ghana, mismanaged and abused by inefficient leaders for so long that its citizens are now fleeing as economic refugees.
Eventually, one of the Brazilian officials said: "They are not sure of the reason they are leaving their country to request for political asylum in Brazil and as the law permits, they can't be forced to return to Ghana." Thus; all of them were taken to the right place to begin the process.
I have watched this disturbing Rio de Janeiro scene twice, the second was repeated yesterday, February 1, 2020, on the National Geographic Channel, yet the program, named "Airport Security Brazil," particular episode is so fresh that the video pertaining to this disturbing scene hasn't yet appeared on Youtube. I couldn't find it on Youtube.
Between 2016 and 2019, the Mediterranean Sea has swallowed thousands of Africans, including Ghanaians, trying to reach Europe in search of greener pastures, while Ghana, the rich country suffers and crumples, under poor leadership.
Today is February 2, 2020, but just the beginning of the year, 'Operation Portal,' has already released figures of the Mediterranean situation. 6,842, including refugees and migrants, arrived by sea to Italy, Greece, Spain, Cyprus, and Malta, 5,690 have arrived by land and 1,152 found dead. Who knows the number of Ghanaians among them?
I have no uncle or relative in high places to praise his inefficiency as efficiency, while all the noise comes from a developed world, America, that a citizen can feed on a wholesome hamburger under 5 dollars, while thousands of Ghanaians are suffering without employment.
This is pure lunacy and hypocrisy and until Ghana gets the right leader, I mean, intelligent, efficient, productive and corrupt-free, the Mediterranean will swallow more Ghanaians and the entire world will be full of Ghanaians requesting for political asylum.