Skills Gap Analysis And Audit Report Launched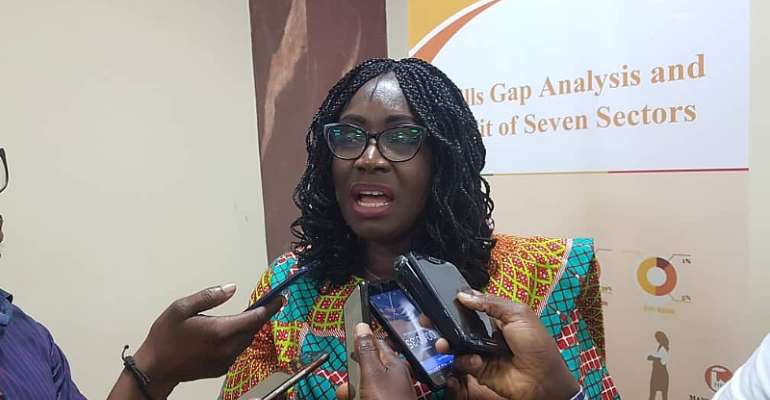 The Ministry of Education through the Council for Technical and Vocational Education and Training (COTVET), as part of measures to ensure the skills needs of industry is adequately diagnosed for the appropriate prescriptions and decisions, has launched Skills Gap Analysis and Audit.
The report which secured support from Ford Foundation was successfully conducted in seven sectors of the Ghanaian economy.
Namely; Agriculture, strategic Manufacturing, Construction, Tourism and Hospitality, Electronics, Automation and Electricals, Energy, Oil and Gas, information communications technology.
Beyond the Skills Gap Analysis and Audit, there is also a report on the profile of occupations and the Skills-set directory of the seven priority sectors.
Speaking at the launch in Accra, deputy minister of education in charge of TVET, Gifty Twum Ampofo, said, the report is a comprehensive work which will guide policy formulation and curriculum development on TVET going forward.
She noted documents had been sent to the cabinet to secure approval of national apprenticeship policy.
"The government of Nana Addo Dankwa Akufo-Addo remains committed to our promise to revamp TVET in Ghana and as such processes are also underway to secure cabinet's approval and operationalise a national apprenticeship policy".
"Government recognises the social and economic benefits of TVET and its potential to reduce unemployment.
Stimulating greater participation in the labour market and reducing inequality by providing social mobility for disadvantaged groups is a major focus of government", she noted.
According to her, the President is committed to making Ghana a centre of excellence for TVET in West Africa, which the ministry has initiated the construction of 32 centres of excellence in the 16 regions across the country, which means that each region will get 2 of these centres.
In the response to the challenges faced in the TVET sector, she said the government has commenced processes to upgrade the TVET infrastructure in Ghana which include; the upgrading and retooling of all 34 NVTIs, the NVTI head office, 10 regional offices and 5 apprenticeship offices.
Adding that, constructing and equipping new training centres for foundry and machining workshops in Accra and Kumasi, as well as, the upgrade of the existing opportunities industrialisation Centre (OIC) in Greater Accra.