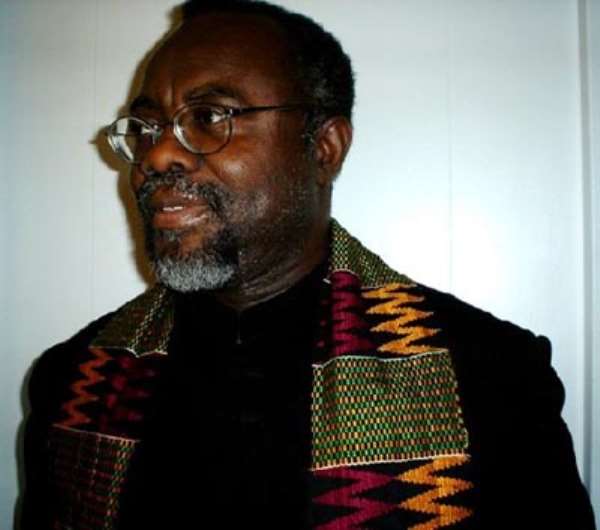 Kwame Okoampa-Ahoofe, Jr., Ph.D.
The second death that I want to discuss in this two-part column – to be certain, I had not originally intended to compose a two-part column, but as most experienced writers would tell the Dear Reader, these two stories took disparate courses of their own in the process of composition – regards the apparently untimely passing of the daughter of my ancestral neighbor or, perhaps, Asante-Mampong kinsman and/or clansman, Mr. Alexander Kofi Mensah Mould, former Chief Executive Officer (CEO) of the Ghana National Petroleum Corporation (GNPC), while the 28-year-old was reportedly on a Christmas vacation to the small Indian Ocean Island of Mauritius (See "Alex Mould[sic] Daughter Has Died in Mauritius" Modernghana.com 1/2/20). Well, I call Mr. Mould my kinsman because like the latter whose mother, I learned sometime ago, was born in Asante-Mampong, the latter township is also the maternal ancestral Biretuo Clan homestead of my maternal grandfather, namely, The Reverend TH Sintim, of the Presbyterian Church of Ghana, as the old man most preferred to be associated with and identified by.
Yours truly, by the way, was also born in Asante-Mampong; in those years of yore, of course, it was "at" Asante-Mampong. So, in a quite practical sense, the untimely passing of Naa Densua Mould, 28, touches me in a way or ways that I cannot easily and/or readily express. But I am also inclined to believe that her alleged Mauritius vacation trip was perhaps more of a Medical Tourism sort of vacation of the daughter of an influential and well-heeled politician than what most of us readers and viewers and listeners of the news have been given to believe and understand. Because it is highly unlikely that this young woman from a family of well-educated Ghanaians had absolutely no idea that she was seriously ill before she embarked on her Mauritius trip that, unfortunately, culminated in her tragic and untimely passing.
We learn that Naa Densua had been promptly quarantined immediately upon her arrival on that globally renowned island nation to, implicitly, ensure that whatever disease she might have been carrying did not spread around Mauritius and affect the citizens and inhabitants of the island by the authorities at the airport. Now, what we don't know, at least as of this writing, was the fact of whether Naa Densua had been administered the requisite medical treatment that she direly needed. But then, I also realize by the very fact of the last sentence that I may be unnecessarily asking too many questions. Which obviously verges on the question of why Naa Densua had not been afforded such seemingly basic treatment right in her own backyard and homeland of Ghana, where her parents and family were quite well known and prominent in both economic and political circles. I suppose it was this latter observation that prompted me to compose this column; that is, the fact that the deceased young woman's father and her paternal aunt, Mrs. Betty Mould-Iddrisu, were/are prominent and very influential members of Ghana's main opposition political party, to wit, the National Democratic Congress (NDC), the political establishment that has governed Ghana the most over the past 40 years.
Actually, what I really wanted to waste absolutely no time in latching onto was the fact that as a government, the Jerry John Rawlings-founded National Democratic Congress has the least enviable track-record vis-à-vis the development of healthcare and the effective delivery of the same here in Ghana. It was the key operatives of the National Democratic Congress, for example, who devised an inexcusably callous and criminal Darwinian healthcare policy called the Cash-and-Carry healthcare delivery regime. Well, the paradox here is that Cash-and-Carry was not a healthcare policy at all, in the practical and progressive sense of the expression. Rather, it was literally the well-fed and well-resourced leaders of the National Democratic Congress telling the rest of us, relatively underprivileged Ghanaian citizens, to take a hike or take care of our own medical expenses or just shut up and perish in the veritable dog-eat-dog world of the kind of Ghana that had been recreated and hermetically dominated by the key operatives of the National Democratic Congress for some two decades.
I have often said and written that as a malaria-prone child growing up in the rural Ghana of the 1960s and the 1970s, I would not have survived past five or ten years old, if I had been born under the development-bereft tenure of either the Rawlings-led junta of the so-called Provisional National Democratic Congress (PNDC), or the Rawlings-led faux-democratic government of the National Democratic Congress. We also learn that following information that his daughter had taken ill in Mauritius, Mr. Mould had flown down to that island nation with the intention of facilitating the immediate transfer of Naa Densua to London, UK, for better medical attention and treatment; but, unfortunately, because his daughter was in quarantine, we are told, the former CEO of the Ghana National Petroleum Corporation had not been immediately able to do so.
Now, perhaps, the most relevant and most logical question to ask here is this one: What prevents Ghana from establishing at least one globally first-class public hospital or health center that is capable of handling malarial cases like the one that allegedly took the life of 28-year-old Naa Densua Mould?
*Visit my blog at: kwameokoampaahoofe.wordpress.com Ghanaffairs
By Kwame Okoampa-Ahoofe, Jr., PhD
English Department, SUNY-Nassau
Garden City, New York
January 3, 2020
E-mail: [email protected]