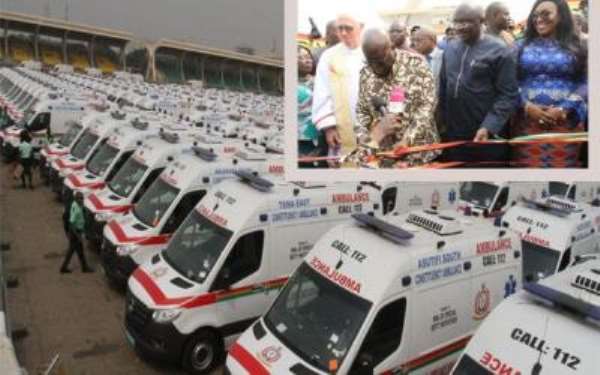 Over the past few days after the successful commissioning of the Ambulances procured for Emergency Health Services, I have read strange statements attributed to some communicators of the opposition NDC in condemnation of the project. Most of these statements like "Ambulances won't last" attributed to the NDC legislator Sam George and several other statements will on a normal day be ignored and considered "loose talks" by people trying to cover their shame because of how this Government has successfully in 3 years accomplished the procurement of 300 Ambulances which they for 8 years could only manage 30 vehicles not only unfit to be used as Ambulances but were also procured under fraudulent circumstances.
However, on Thursday Jan 30, 2020, Mr. John Mahama whilst interacting with his followers on Facebook made remarks that are not only unfortunate but defeats his re-election bid. His description of the procurement and distribution of the Ambulances as a "complete loss of prioritization" because of his claim that all the major hospitals they started have come to a standstill is very pedestrian and very alarming to be uttered by someone who was once at the top as far as the Governance of this country is concerned.
This unfortunate statement makes me wonder whether Mr. John Mahama has a competent shadow Minister of Health or a Health Policy Advisor who counseled him on what to say on this issue. His assertion, which is probably his proposed policy, is basically flawed in several aspects some of which are:
1. If after the NDC's 8 years in power and the so called period of "massive infrastructural developments" Ghana still does not have hospitals in the 275 constituencies capable of receiving emergency cases brought in by the Ambulances, then this country was in real doom during Mr.John Mahama's reign and will perhaps suffer a worse fate if he and his NDC mistakenly come back to power.
2. It is very obvious Mr. Mahama or anyone advising him on these issues does not understand (or perhaps understands but is only mischievous) what Emergency services means. The word emergency should simply ring a bell in even a child's mind that this service cannot be deferred until we finish his so called "major hospitals". There is no charter anywhere in the world that stipulates the completion of "major hospitals" before the provision of Ambulances and there is likewise no Manual anywhere that restricts the services provided by Ambulances to "major hospitals.
3. There are about 275 constituencies in this country. Is Mahama telling us his "major hospitals" are cut across all these 275 constituencies? Is he saying that none of the hospitals in these 275 constituencies can receive emergency patients brought in by the Ambulance? The answer is obviously a big no and this is very clear to every Ghanaian.
4. No country in the world, not even in the developed world, has a perfect health care system. In the UK for instance, there are health facilities in which patients have to wait for over 10 hours at the Emergency units before they get attended to. This obviously could have been easily solved by establishing what Mr. Mahama calls "Major Hospitals" and employing several health care practitioners to handle these patients.
To highlight the seriousness of this issue, it was widely reported recently on 17 January 2020 that an American woman from the US State of Wisconsin died after returning home home because she waited several hours at the Emergency room without receiving attention. The US and UK are two of the most industrialized countries with a very sound health care system but this problem has never been a barrier to them building up a strong and robust emergency service whilst continuing to work on the lapses in the system. This exposes the absurdity in the proposals of Mr. Mahama and his NDC.
It is this same poor and indecisive thoughts that led John Mahama and the NDC to criticize the Free SHS policy on the basis that we need to build more schools and facilities before we can allow our children to enjoy this basic right enshrined in the constitution. To them, there is no sense of urgency in the matter of education of our children and they give no damn to the children who would have stayed at home and lost the opportunity to be educated until their so called "infrastructure" are completed. This is the same logic they have imported into this issue of Ambulances even though the latter is of more urgency than the former.
But to even expose the level of dishonesty and cluelessness of Mr. Mahama and his NDC, it has been on record that they, since 2013, have made unfulfilled promises to increase the number of Ambulances until they finally failed woefully by securing 30 unfit and fraudulent vehicles. Why didn't they wait to complete their "major hospitals" before attempting to fail? This brings to bare their lack of sincerity in this issue and how their policy plan is unstable like a wooden boat is when challenged by the strong waves of the ocean.
The aforementioned issues which are a fraction out of a lot only uncovers how John Mahama and the NDC are ill-prepared to come back to power. It also explains why the country was in a negative trajectory in most key sectors of development and further gives a huge lesson to Ghanaians never to entrust the Governance of this country in the hands of this bunch of grown up clueless NDC leaders who parade themselves as the panacea to the problems confronting this country.
To this end, we will continue to echo the slogan "4 MORE FOR NANA" and "4 FOR GABIANA (Bawku Central Constituency)" as well as all the other NPP Parliamentary Candidates.
Written by:
Dr. Issah Imoro
( [email protected] )
Issah Imoro (OD)
Student, Master of Science in Optometry (Orthoptics and Padiatric Optometry)
University of South Eastern Norway
Kongsberg
Norway
Mobile: 0047 91274793